At Global Heritage Fund, we believe that the heart of heritage lies with the people who cherish it. Periodically, we will be posting intimate stories highlighting the many local voices that make our global heritage a story truly beyond monuments.
Durmus Doğan's air of seriousness is shattered when he sees his favorite place in Sagalassos, an ancient city now known by the Turkish name of Aglasun. Skirting the edge of the upper agora, a row of plum trees has made its home in the rough earth, giving the bone-white limestone a lively color. But it is during springtime, when the trees bloom into sparkling patterns of pink, white, and red, that Doğan experiences the greatest joy. "This is the 'wowing' point" he says, flashing an enigmatic smile. "People are astonished by the beauty of the site."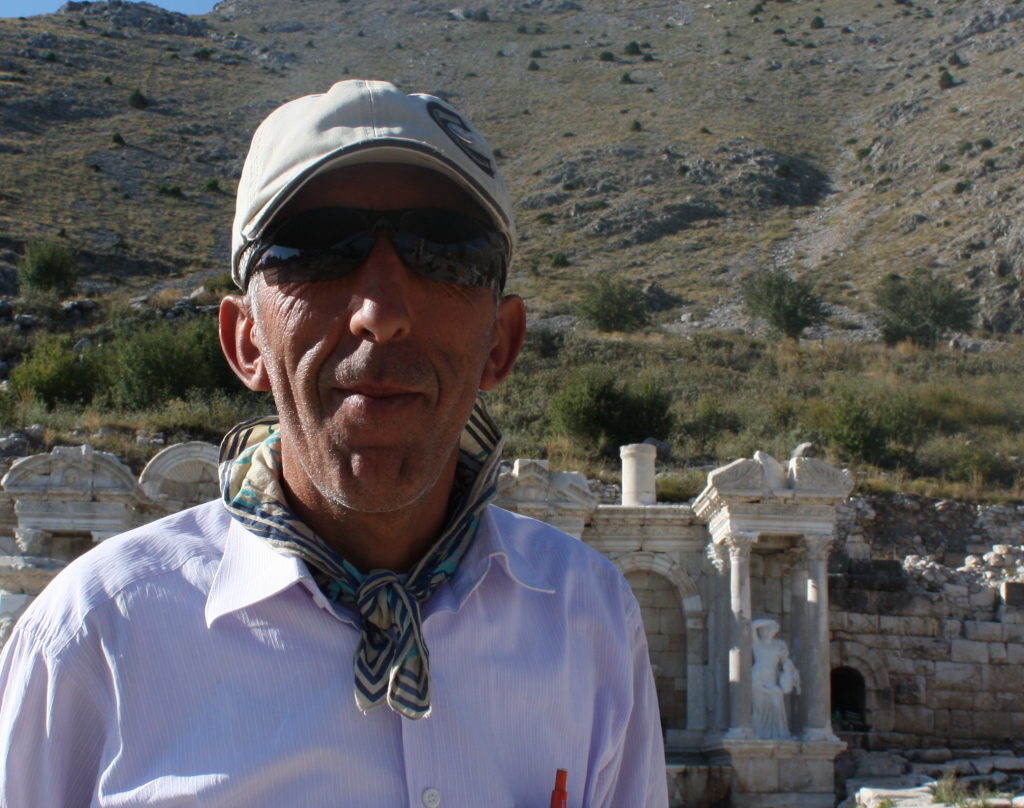 Decades of work have given Doğan ample time to make many such memories. One of his proudest moments came with the final restoration of the Antonine Nymphaeum's main fountain. "People said that it [was] impossible to carry water to the fountain, but we refused this statement" he reminisces. "We said to them, 'a fountain without water is not a fountain at all.' So we gave up everything we were doing to bring water from the Hellenistic Fountain. We did it in half a day, just before the official opening."
Made indispensable to the saga of his own life, Doğan has woven Sagalassos into the history and the future of his family. His two children were raised in tandem with the project, their formative years spent with the ruins of the Hellenistic Gate, the Antonine Nymphaeum, and the Gladius Gate. Carrying with him the seeds from his ancestral farm, Doğan began to grow barley, wheat, corn, beans, tomato, peppers, and other vegetables in the shadow of the mountains to feed his growing family.
Sagalassos has dominated his life for 22 years, almost half a lifetime. In 1993, fresh from the army and looking for new opportunities, Doğan applied for and got a job with the conservation team, an auspicious start that augured many additional projects and responsibilities in the ensuing years: he was immediately tasked with training six other workers, who are his colleagues still today; when there was a shortage of stonecutters at the site, Doğan and his colleagues declared they could do it, quickly becoming experts in the techniques; and once, he even outsmarted chief engineer Semih Ercan by recognizing an architectural structure that he had not recognized.
This constant drive and zeal for excellence characterized his work at the site and conditioned his very character. "I will work in Sagalassos until I get very, very old", he affirms. "I will work till my last breath. There is nothing I cannot do for the sake of the site."
Learn more about Doğan's work with GHF at Sagalassos by visiting the official project page