At Global Heritage Fund, we believe that the heart of heritage lies with the people who cherish it. Periodically, we will be posting intimate stories highlighting the many local voices that make our global heritage a story truly beyond monuments.
Ali Koç is not originally from Ağlasun. But, like many of the workers who came to the site in his later life, the nearly 40-year veteran of the General Directorate of Antiquities and Museums became captivated by its natural and architectural beauty from the moment he arrived.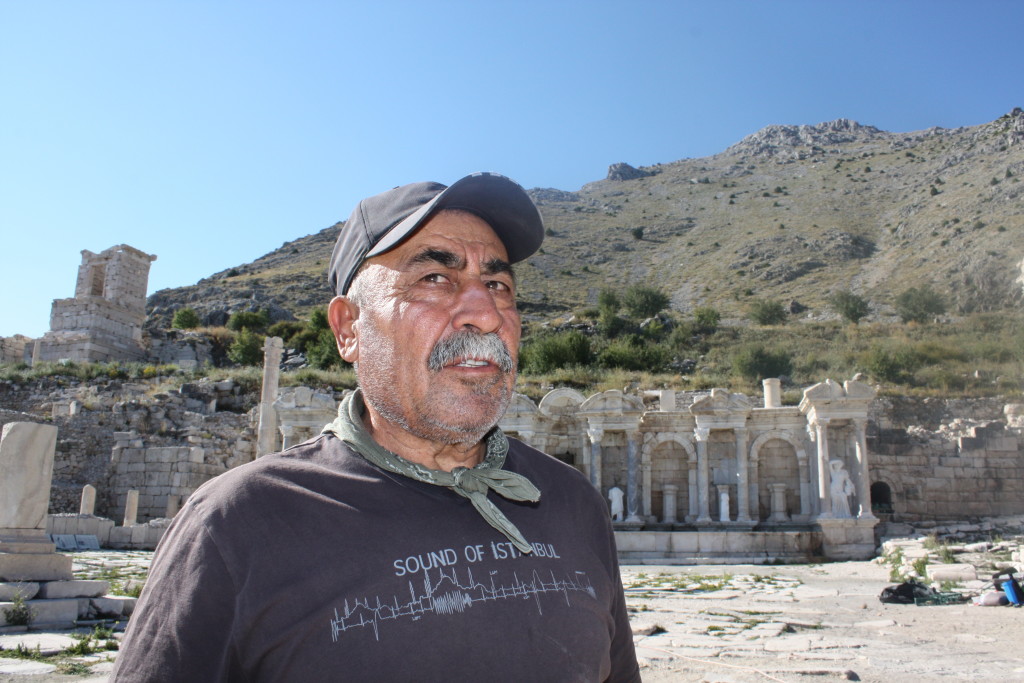 Ali Koç in a moment of candor at Sagalassos.
©Mustafa Gönen/Global Heritage Fund
"The first time I saw Sagalassos was in 2001. The director of the project didn't want to take me because the car was full. I sat on top of everyone and went anyway!" he says, the air of mischief lightly playing on his smile. "I have worked here since that day. It is like nothing else."
And it might never have been, had Koç not experienced a fortuitous change of heart. Koç began his relationship with Turkish antiquities in 1978, the year he quit topographical engineering – "too boring" – to take a job identifying and registering the country's many historic monuments and sites. "Everything was fascinating then. I worked with urban and rural sites, I learned how to read a map and use heavy construction equipment, and I started to take a part in the archaeological excavations" he remembers. "I believe in loving the occupation you do and always learning. They even taught me how to drink raki!"
"But, you must also work hard," he continues. Indeed, Koç became well known for his diligence at the site, returning year on year for over a decade in a single-minded pursuit to restore what many consider the most impressive site in all of Sagalssos: the Antonine Nymphaeum. This public fountain, an exemplar of Classical architecture, flowed with water from its inauguration under the Emperor Marcus Aurelius until the final abandonment of the city in the seventh century AD.
Koç resolved he would see it flow again for the first time in millennia. And when the water came down from the fountain, flowing once again over the ageless stone, each and every member of the team hugged each other and cried. In the evening, they were taken to a dinner to celebrate its official opening, and chief engineer Semih Ercan asked Koç to give a speech. "I could not find the words. I said to them 'My friends… I have learned a lot from you."
The response from his fellow workers and friends is something he will always remember. "No, Ali. It is us that learned a lot from you."
Learn more about Koç's work with GHF at Sagalassos by visiting the official project page.