At Global Heritage Fund, we believe that the heart of heritage lies with the people who cherish it. Periodically, we will be posting intimate stories highlighting the many local voices that make our global heritage a story truly beyond monuments.
"I've spent years collecting these woodblocks" Deng Xiaohua says, gesturing to the series of antique printing equipment neatly arranged along the walls of small, one-room workshop. Xiaohua, a factory worker and an autodidact learned in literature and local history, is one of a handful of traditional artisans attempting to revive what was once a local cottage industry here in Pingyao, China's first banking capital. "Many of the people consider this sort of thing to be worthless. 'What's so important about printmaking?' they would ask me. They don't understand why this history is important, or they don't care. I am trying to change that."
The rich architectural legacy of Pingyao has made it the jewel in the crown of China's grand old towns, but it was not the courtyard houses, market towers, redoubtable city walls, or other emblems of grandeur that awed Xiaohua. Simpler, more subtle things caught his eye. "I remember when I saw my first woodblock. I ran my fingers over the old wood, exploring the creases and the chisel marks. It had not been used in a very long time. Immediately, I was enthralled, and I ended up taking it home with me." That was the first of many objets d'art in his collection, which has grown to encompass numerous antique woodblocks and pieces of printing equipment. "It is a love affair in many ways."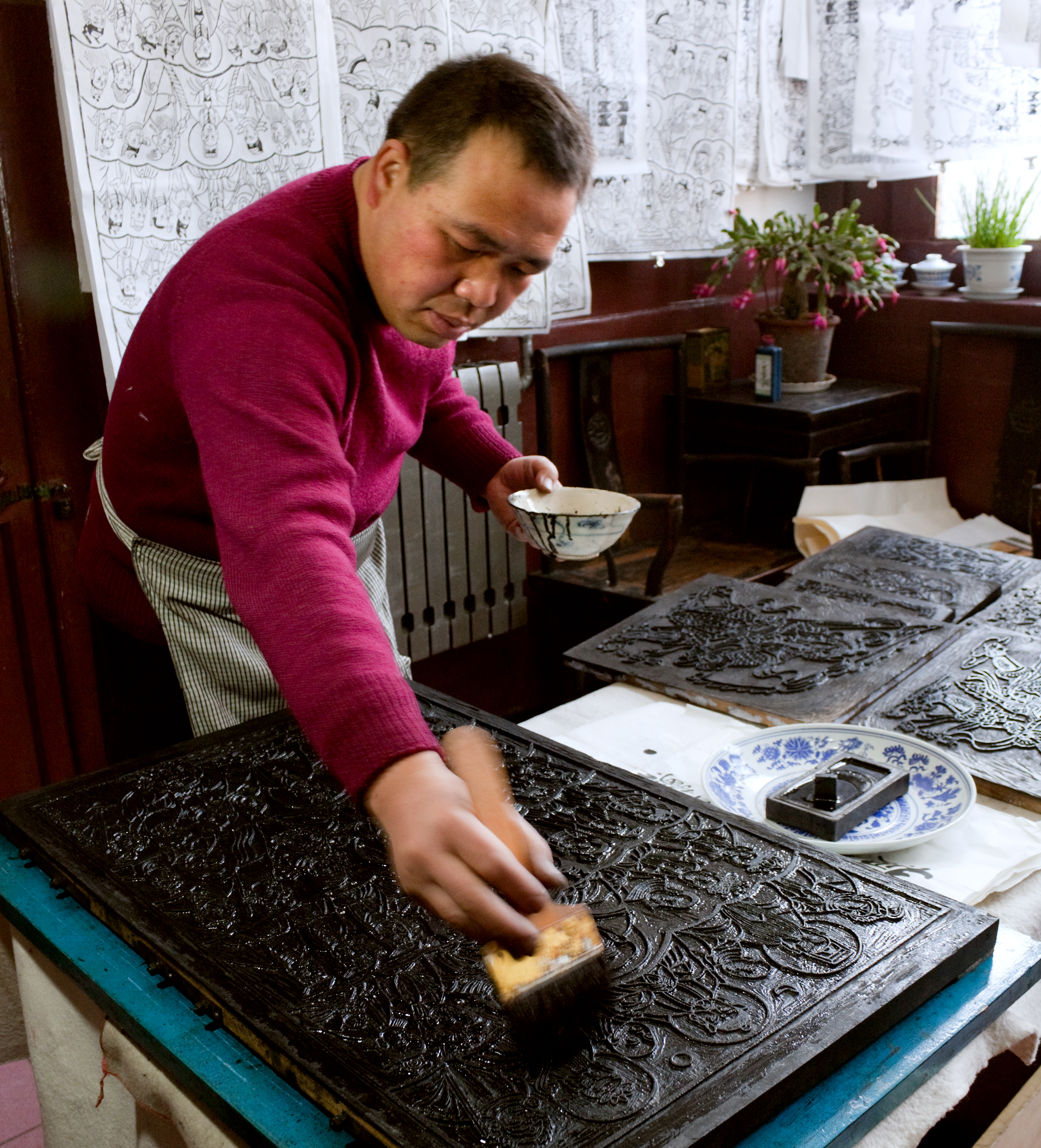 Deng Xiaohua in his workshop
Xiaohua has a pensive aspect, tempering his unbridled wonder with a diligent adherence to his chosen artistic method. He prepares each block by hand before his first print run, inspecting the block for imperfections or burrs that may mar the printing. Xiaohua prefers vibrantly colored prints, and after printing the base of black ink to form the outline of his figures, he prepares each run with a different color ink and repeats the process until the print is complete. When he is finished with a block, he wipes it clean with a rag and non-toxic detergent, careful to avoid marring the porous wood with too much moisture before leaving them out to dry in the sun.
He does not believe the art can long survive, however, if he does not bring its old practices into the modern era. Some of his innovations include reverse-engineering new woodblocks from antique prints he has found, as well as making his own designs and blocks when the spirit takes him.
"This art form was dying slowly, for many years, but somehow it has survived. I hope one day it can become the high-quality craft form it was in the past. Not only can we be proud again of this local product, but we can also make a living selling it to tourists."
Learn more about Xiaohua's work with GHF at Pingyao by visiting the official project page.