Çatalhöyük
Home to some of the world's earliest mural art, this ancient site was thought to have a population of over 30,000 people, one of the world's earliest and largest cities.
Where We Work
Çatalhöyük, a site dating back nearly 10,000 years, has been the focus of extensive archaeological investigation and conservation efforts since 1993.  Home to some of the world's earliest mural art, this ancient site was thought to have a population of over 30,000 people, one of the world's earliest and largest cities. Global Heritage Fund began conservation and community development work at Çatalhöyük in 2006.
Many regard Çatalhöyük as being central to the origin of civilization in Turkey and the Middle East. In recent years, local, regional, and national interest in Turkey has increased regarding the development of the site for tourism and economic benefit for the local communities. In 2012 Çatalhöyük was inscribed on the UNESCO World Heritage List, making it the only Neolithic site on the list from the Middle East.
Çatalhöyük is a site that faces a number of natural threats, including high winds, heavy snow and exposure.  Erosion is also a significant threat to the site's remains as the buildings were largely constructed of unfired mudbrick, easily degraded by water action.  Threatened by exposure to the elements and erosion, the construction of permanent protective shelters has been successful in keeping the damage to a minimum.  GHF has focused its contributions to preserving this important site in the areas of conservation intervention and training, the improvement of site interpretation and increasing community involvement in the site.  A dropping water table resulting from intensive irrigation in the area is also threatening the preservation of the site's remains.
What We Do
The focus for GHF at Çatalhöyük has been on conservation training, site protection, preservation of the archaeological remains, and improving the visitor experience.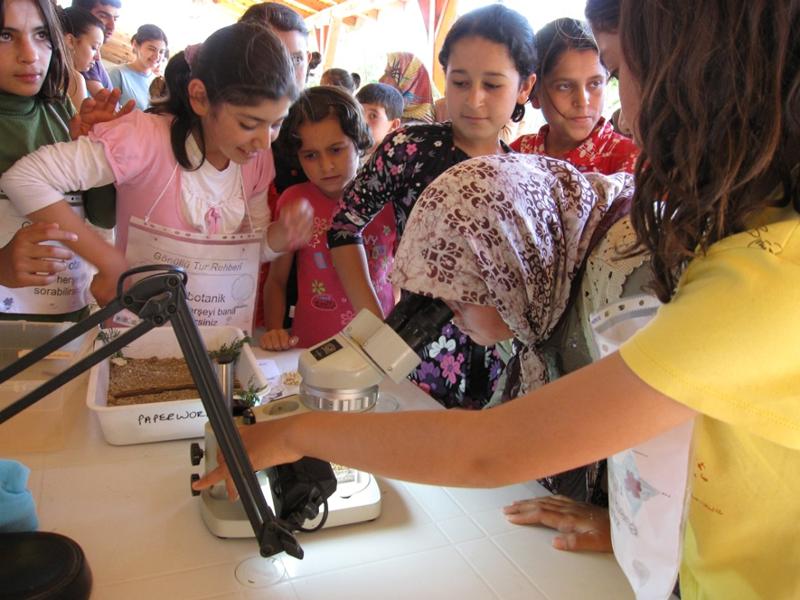 Why It's Important
The site of Çatalhöyük has revealed some of the world's earliest mural art and is often seen as central to the origin of civilization in Turkey and the Middle East. However, the houses at Çatalhöyük are made of unfired mud brick and so offer a major challenge for conservation and site presentation. Additionally there has also been much change in land management in the area over recent decades leading to a major drop in the water table and changes in runoff and erosion, factors which are also affecting the site negatively. Due to this and other factors, it is imperative that we maintain continued vigilance over the heritage assets at this site.
In 2009-2010, significant progress was made at Çatalhöyük, Turkey, including:
GHF funded the second major shelter structure at the site, leading to its being opened to the public for the first time
Monitoring relative humidity within the shelters is contributing to a greater understanding of intra-shelter micro-climate fluctuations and informing the most appropriate approaches to the site's conservation
20 excavated buildings in the 4040 area were consolidated and stabilized in 2009 alone
Exposed wall paintings have been treated to enable long-term conservation and to allow in situ display
Community-based conservation training has resulted in over 60 local workers skilled in site conservation
Community engagement also included guide training, site employment, school visitation and education.
Signage has been improved to create a richer visitor experience
Visitation has increased from zero to 6,000 visitors per year
GHF enabled the first Conservation Program budget at the site, over $300,000 in total
GHF funding also helped the project secure equal matching funding from in-country corporate and foundation donors of over $800,000 since 2004
Candemir Zoroglu

Candemir Zoroglu joined us in 2002 as a student from Selcuk University and continued as part of the team and came until 2006. During that time he gradually gained in expertise and confidence and we were able to give him tasks with increasing degrees of responsibility. By the end of 2006 he was a well trained field archaeologist with a wide range of skills at his disposal. He went on to work for the Ministry of Culture and Tourism in Ankara and is now part of the team that deals with the illicit trade in antiquities from Turkey, often traveling to major museums and governments around the world to argue Turkey's case.
Mavili Tokyasun
Mavili Tokyasun worked as part of our kitchen and dig house staff from 1994 to 2007. She became a central part of all our lives and her keen sense of fun sustained us through many long summers. She came from the small village, Kucukkoy, near the site and had little income. The experience and financial independence she gained through working in the kitchen gave her the skills to set up her own business. She now supplies local shops in Konya with the Turkish pastry called borek. During the busy ramadan months she employs two helpers.  Moving to Konya also means that her son is getting more and better education.
Sadrettin Durai

When Sadrettin came to us, he was a farmer from the village of Küçükköy near the site, although he had also worked other jobs, such as driving a taxi, to supplement his income. During the 1990s, he worked as one of the guards at the site. He did not speak English and felt frustrated by his inability to explain the site to tourists. He took it upon himself to learn English using tapes given to him by ourselves and tourists. He asked to know more about the site, and we spent several pleasant evenings explaining the details of the Neolithic period and Çatalhöyük to him. As Sadrettin got to know the site, he felt that he would like to write his own book about the site and project. We gave him a computer, and he sat down and wrote 50,000 words in Turkish, which were then edited and translated into English by Duygu Çamurcuoǧlu. In the United States, this book was published in 2006 by Left Coast Press as Protecting Çatalhöyük: Memoir of an Archaeological Site Guard. It has been favorably reviewed, including by American Anthropologist. Now Sadrettin can tell his story of going from local heritage site guard to international author.