At Global Heritage Fund, we believe that the heart of heritage lies with the people who cherish it. Periodically, we will be posting intimate stories highlighting the many local voices that make our global heritage a story truly beyond monuments.
"I find the ancient architecture very interesting" Liu Xiaoli says, looking up at a small house blanketed in a thin layer of snow. It's a cold day in Pingyao, a small city in Shanxi Province, 600 kilometers as the crow flies from the capital city, Beijing. That doesn't faze Xiaoli, who is excitedly scrutinizing every part of this ruin, one of many that typify the antiquated ambiance of this city. "I like to give my best and learn as much as possible" she says.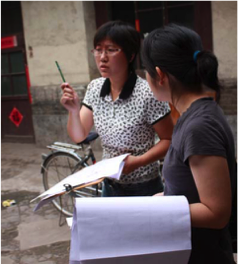 Liu Xiaoli surveying a heritage building in Pingyao
©Global Heritage Fund
China's first banking capital and the hub of Silk Road trade for centuries, Pingyao resembles nothing more than a noble lady, retired from high society but still sporting the wit, fashion, and sensibilities that are its undeniable marks. Enriched from the wealth brought by these two trades, Pingyao's residents bedizened their city with an architecture whose elegance is unrivaled: market towers dazzle in the sunlight in shades of turquoise and gold; the emptiness of the city's estates, built to house family members and legions of servants, testify to their owners' riches; the city walls and their six barbican gates still protect the residents from foreign invaders, whether tourists or barbarians – if they may be distinguished.
The "Turtle City," as it came to be known, has a rich history. For Xiaoli, though, what is more intriguing than its storied past is the promise of its future. "What's fascinating to me is how the meaning of this place has changed over time." Xiaoli says. "What it was in the past is now a memory. What will give it meaning again?"
It's a question on everyone's minds in this ancient place, which, true to its nickname, is slow to action: with urbanization and tourism becoming pressing issues, the pace of heritage destruction increased without sings of stopping. "[It's tricky] because it to do with people's lives, not just about buildings but the way people live" says Kuanghan Li, Director of Global Heritage Fund's China Heritage Program. "It's very much involved or engaged in the present. [So], helping people see that heritage is relevant now, and not just in the past, is important."
Though Xiaoli expresses unbridled enthusiasm for the city and its matchless charms, she never thought she would end up working on these issues directly. Originally an administrative staffer at the planning review department, the graduate of business management and international trade was transferred to work with GHF when commenced work there. She had to learn everything about heritage from the bottom up. She immersed herself in the rigors of her work and quickly became interested in historic buildings and conservation, becoming motivated to learn as much as she could from her more experienced colleagues.
Her hard work has paid off: over the course of a year and a half, Xiaoli advanced from a beginner to a proficient historic building surveyor, draughtsman, and site supervisor. Even though she is doing something completely different from her background, Liu has no regrets. "I like to give my best and learn as much as possible; I hope that I can continue to hold the position and deepen my knowledge of historic buildings."
Learn more about Xiaoli's work with GHF at Pingyao by visiting the official project page