At Global Heritage Fund, we believe that the heart of heritage lies with the people who cherish it. Periodically, we will be posting intimate stories highlighting the many local voices that make our global heritage a story truly beyond monuments.
The pull of home is undeniable for Yang Zaixiang. His eyes grow wisty when he reimagines the water ponds of his youth, flowing clear with the produce of Guizhou's mountain springs. The rain bridges, in design and in beauty resembling nothing more than their namesakes, give him shivers of nostalgia. He remembers well his village's qualities. They're what made him come back.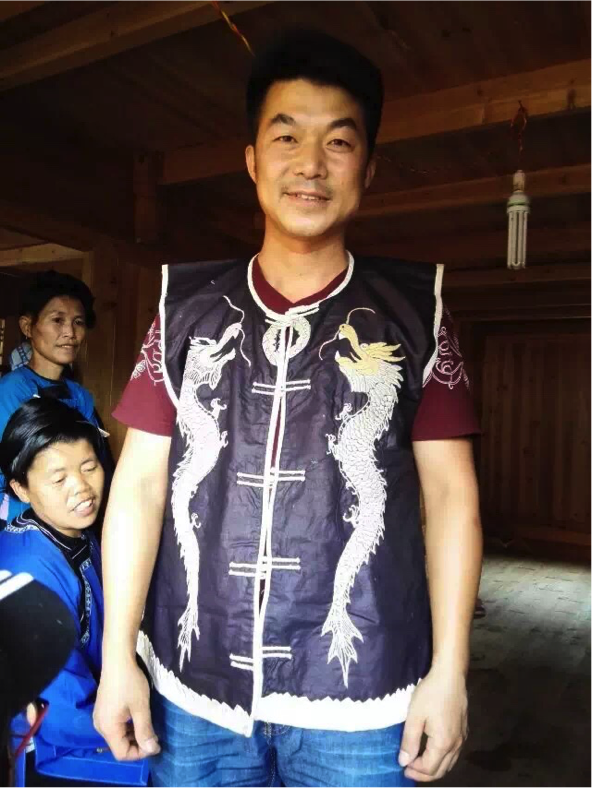 Yang Zaixiang at his home in Guizhou
Zaixiang grew up in the rural backwater of Dali, in Guizhou Province, spending his childhood playing in the mountains and forests that still swaddle his village in an embrace both comforting and foreboding. Beyond the outskirts of this small, rustic civilization, the mountains loom like giants. Their greentopped haunches, girded with pine forests spread for miles in rangeless gloom, guard against infiltration from outside and escape from within.
Soon after reaching manhood, Zaixiang decided to test these sentinels: he left his childhood mountain idylls to ply the roads of Jiangxi Province as a truck driver. Zaixiang enjoyed the siren song of the road. 600 miles away from home, he enjoyed the freedom internal combustion has given to generations of restless youths. But no amount of money could numb the growing pains of his heart. "I left for new opportunities," he recalls. "I didn't realize everything I left behind."
So, in 2013, years after he left and with a wife and two children in tow, he returned. "I was amazed by what I saw. It was like nothing had changed."
The fog of memory can cloud the sharpest minds. Decades of neglect, an insidious fruit of the province's proverbial poverty, had done a number on what remained imprisoned, Platonic and perfect, in his youthful memories.
When Global Heritage Fund arrived in 2012, we took stock of the damage and immediately set to work completely restoring many of the village's landmark structures. With the help of our Chinese partners, we repaired the village's drum tower, completed work on five historic granaries and five bridges, cleaned and restored 12 water ponds, and repaired the façades of 40 major structures.
Like it was in the past, Dali Village is beautiful once again. And Zaixiang intends to keep it that way. Arriving in time for a new surge in tourism, Zaixiang was inspired by our work and dedicated himself to maintaining the painstaking restoration work already completed.
He refurbished his childhood home and converted it into a guesthouse for the many tourists the city government expects will arrive in the coming years. He hopes artists from around the world will make Dali a destination for its beauty, and his guesthouse a stomping ground for its rustic charms. "I love my village. Preserving it as it is important to me now because it means preserving my own heritage."
Learn more about Zaixiang and GHF's work in Dali Dong Village, visit the official project page