Betty Meissner has been a longtime supporter of Global Heritage Fund. Beginning her patronage with our completed project site of Banteay Chhmar, Cambodia, Betty has found her passion for heritage ignited in our many worldwide projects. After her recent trip to our former site of Pingyao, China Global Heritage Fund staffers Matthew Strebe and Katerina Acuna sat down with her to discuss tourism, conservation, and the challenges sites face in the 21st century.
Betty Meissner, a former French teacher in the Palo Alto Unified School District and a Global Heritage Fund donor, is planning her latest trip to Paris. It's been a perennial favorite of hers for years, and not just for the City of Love's unmatchable architecture. "We don't have great movies here in the States. I go to Paris to see what's new."
We meet Betty at Hanahaus, a trendy coffee shop in the heart of downtown Palo Alto. It's a hot Friday, and with a clientele of Stanford students, just-off-work techies, and us, it's doing brisk business. After ordering our drinks, we settle down in the Budapest Room away from the heat and the maddening crowds.
As she looks around the room, Betty begins to reminisce about her travels abroad and her time here, in the heart of Silicon Valley. "I used to bring my students here, oh, 30 years ago. It was a theater back then. It reminds me of my father's home town."
Betty grew up in California, but deep pools of memory bring her back to her roots in southern China. "My grandparents were pretty prosperous in China, but they lost everything in the war. When they came here, they had a very small apartment in Sacramento. That's where I grew up. When we were there, though, my Dad would show us the pond where he went fishing, and the sign was still there. The house where he grew up was still there, and get this, a picture of my dad and grandfather was still up there in that third-story house. Even though someone else was living there, the people remember who used to be in the village, because it's not that big of a place"
This veneration of the past is a major point of pride for Betty. "I'm Chinese, [and] this is what my ancestors did! Whether it's gunpowder or the art that they made or this or that, the tenacity of these people over decades and centuries eventually to create some of these pieces of art… and for what? They found something much bigger than themselves. The creations they made are so incredible. There was so much art that was fostered and spread by the different dynasties. In Egypt, they would destroy their predecessors' things. That happened in China in some places, but I never saw or heard about much of that."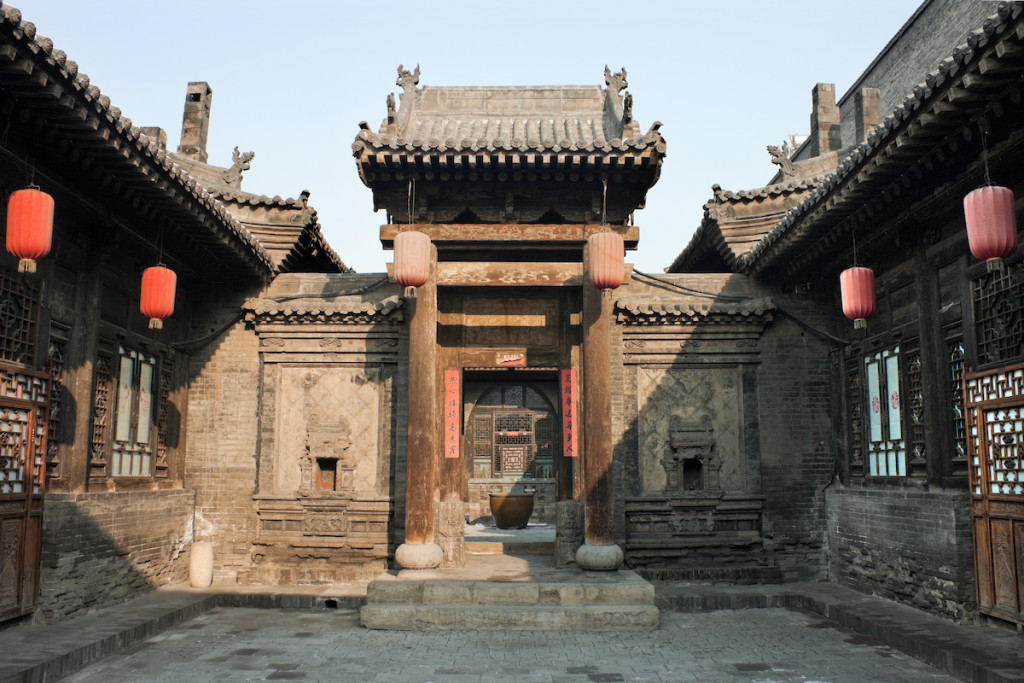 A restored courtyard house in Pingyao, China. ©Xiadong Wang/Global Heritage Fund
With her passion for the past and for preservation, it's little wonder that Betty eventually found Global Heritage Fund. She recalls that, due to a series of coincidences, her first involvement began with Banteay Chhmar.
"I was doing research, and somewhere along the line, I found out that GHF was doing conservation work there and thought 'Oh, that's an interesting-sounding place.' Then, it turns out the office was in downtown Palo Alto. Then, it turns out it was founded by a young man who went to Palo Alto schools, who I'd taught. It's a whole interesting series of coincidences and intersections that bring me to this point right now."
When Betty visited, however, Banteay Chhmar was in the infancy of its development as a tourism destination. "You'd have to find somebody, who'd barely know how to get there anyway," Betty remembers. There was little infrastructure in the surrounding villages, especially for tourists, and the road, if it was passable at all, was difficult to find." However, the ruins of King Jayavarman VII's epic temple complex was something magical to behold.
King Jayavarman VII built Banteay Chhmar at the end of the 12th century. Following similar grandiose temple plans executed throughout Angkor, it was to be the jewel in the king's already lavish crown: a one-kilometer arcaded enclosure wall surrounded the temple, carved with detailed bas-reliefs telling the story of the Ancient Khmer, depicting royal processions and battles, and festooned with multiple, exquisitely detailed images of the multi-armed bodhisattva, Avalokiteshvara.
"Back then, we hung out in this big wooden area they had outdoors, and we'd sleep upstairs in blankets," Betty says. "It was really rugged then! But it was great because we got to learn what it was like for them and how they lived. We're lucky that we can come back to our comforts and what not. I don't mind creature comforts when I'm traveling, but sometimes I think it's important to have an idea of what other people have on a daily basis."
Although the accommodations were more spartan than luxurious, they nonetheless afforded an income to local residents that dwarfed what they could make from subsistence alone. Betty spent her time with Nil Louern, one of the first women in the village to begin hosting guests with the Community-Based Tourism Board's homestay program. "She was one of the driving forces in the village," Betty says, and the CBT that she worked for has had a catalytic effect on village life. "I believe Nil was able to send her son to university with the money that she brought in from homestays," Betty recalls. "That's not an opportunity many people had there before."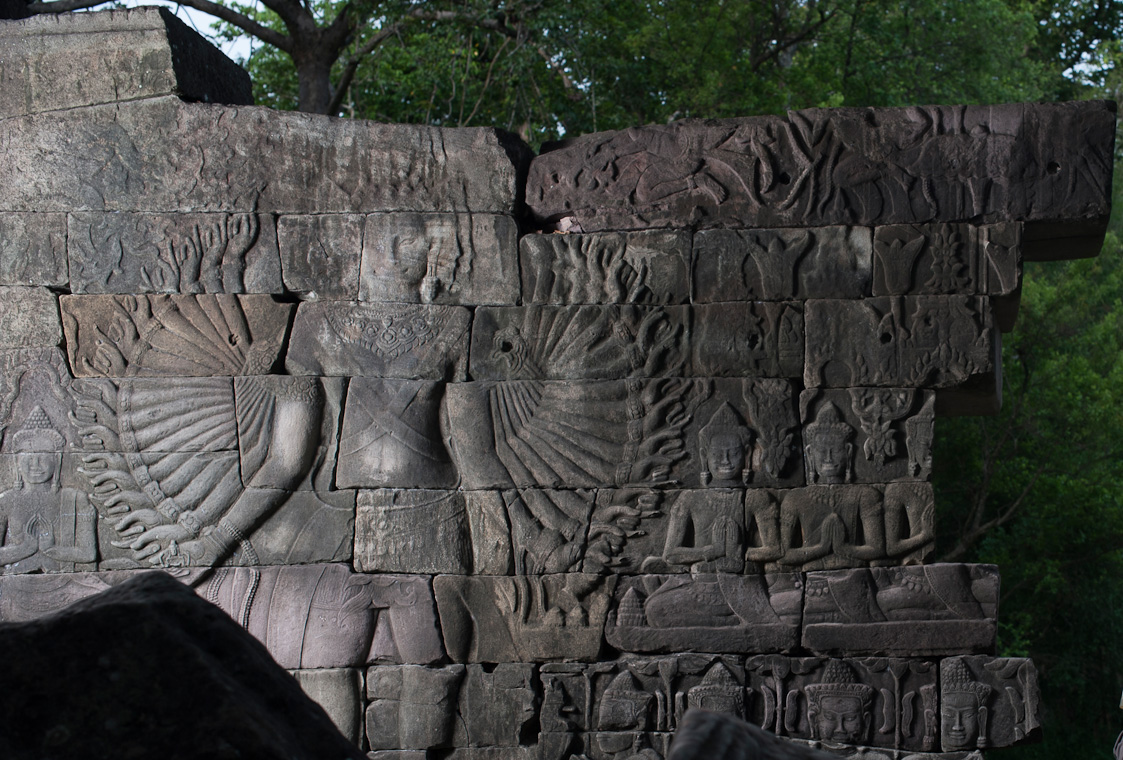 A relief from the temple of Banteay Chhmar. ©Craig Stennett/Global Heritage Fund
Tourism is an integral part of Global Heritage Fund's efforts to economically empower local communities living in and around project sites, but like many economic drivers, it is not an unalloyed good. Tourism brings with it increasing numbers of people, who must be accommodated with hotels, restaurants, guides, and other, related businesses. They use up local resources, pollute the environment, and can even damage the site itself. Without a plan in place to manage the inflow of tourists and the allocation of resources, the load can quickly become far too much to bear for many sites, especially those in developing regions of the world where expertise and resources are frequently scarce.
As an avid world traveler, Betty has frequently experienced the pitfalls a nascent tourism economy can bring. "When places get that [UNESCO] designation, everyone wants to flock there. And oftentimes, more people flock there than the infrastructure is ready to handle" Betty says.
"Take Siem Reap. The city is going under as we speak, the water is being used up, so many people are impacting the place. I don't know what the people of Siem Reap think of the tourist industry – I guess it's good because it brings in revenue – but the impact on the sites, the pollution, the litter, the bad things that go along with more people…
30 years ago, at Angkor Wat, what was the administration thinking and wanting as they watched more and more people come? More things being built and the infrastructure needing to expand? That's a concern of mine. You can't stop tourism, but you want to make sure people can be sensitive to things and appreciate this stuff."
Now, however, there's much more awareness amongst governments and civil society organizations of the consequences of unregulated tourism, and young people especially are more interested in places that work to maintain the integrity of their cultural history. Betty experienced this paradigm shift firsthand when she visited Pingyao, a recently completed GHF project in Shanxi Province.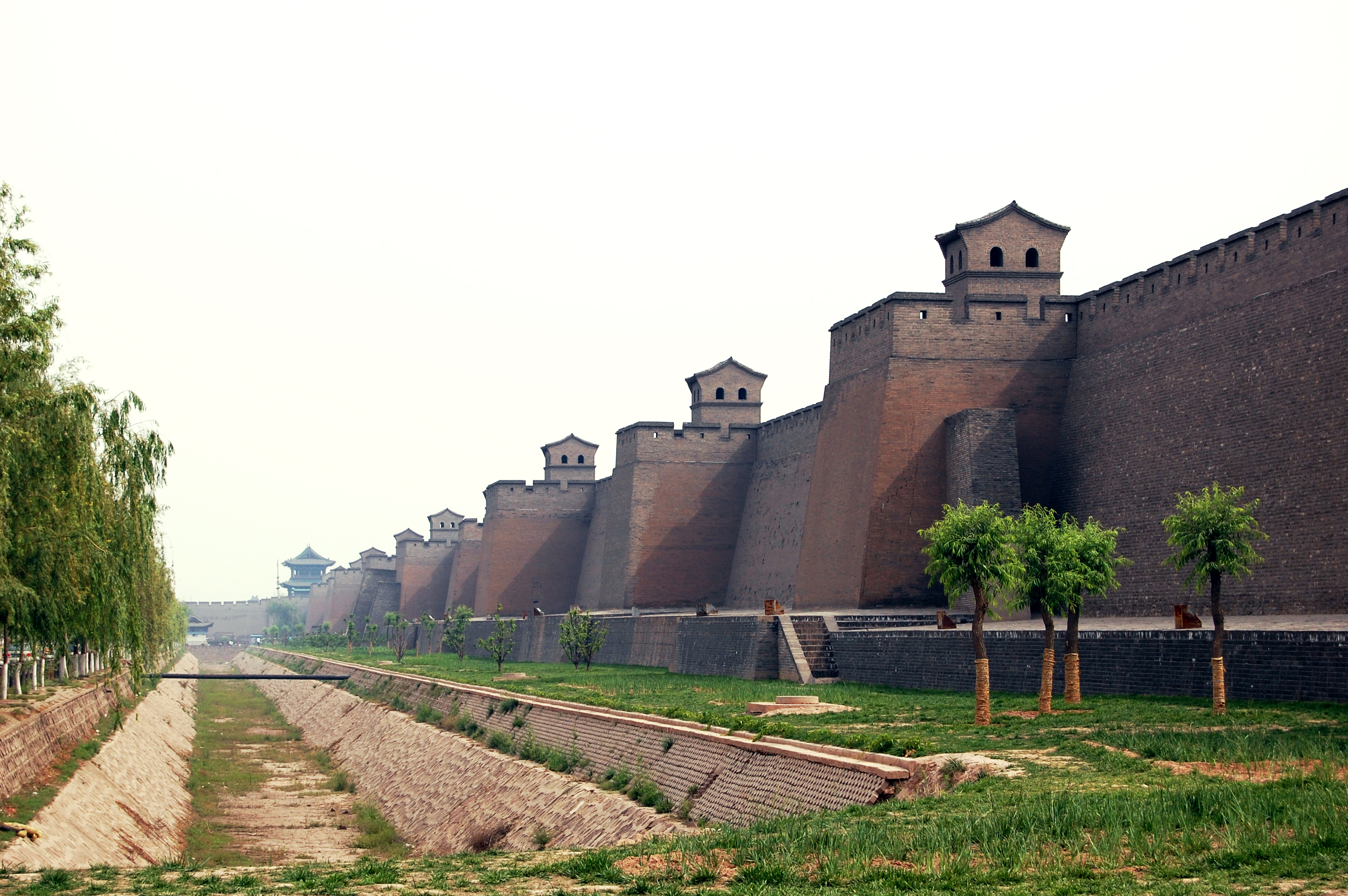 Manual labor is still the primary means of conveyance in rural Guizhou
Founded by King Xuan of the Western Zhou Dynasty in the 9th century BC, Pingyao rose to the zenith of its influence during the late Qing Dynasty, when it became the financial epicenter of the region. Within its 14th-century AD stone walls, there were as many as 22 draft banks transacting the important affairs of China, Central Asia, and beyond, and in the countryside, more than 400 branches served as the commercial arteries of a nascent global marketplace.
While Pingyao has lost its hegemony over the Chinese banking system and the prestige that position entailed, the ancient city remains a paragon of the Ming and Qing Dynasty building styles. Inscribed by UNESCO as a World Heritage Site in 1997, Pingyao still houses an estimated 4,000 Ming- and Qing-era courtyard buildings, along with numerous historic sites, temples, and institutions, such as China's first bank, Rishengchang, and an intact city wall.
"It's not really on the radar yet," Betty says of the ancient banking capital. "When I was there, I stayed in one of the old, old houses. The family had it for 150 years or so. There are still all the old courtyards. It felt like I was living 150 years ago, but it had running water and all the amenities. They even had the best espresso there!"
Although the marriage of modern convenience and ancient buildings seemed seamless at the time, it was the product of many years of hard work in planning, management, and sustainable conservation. Before Global Heritage Fund's arrival in 2007, Pingyao's historic architecture suffered from the extreme poverty that afflicts the city's inhabitants. Despite the city's former prestige, the residents and local government of Pingyao had allocated little funding to conservation over the years, leading to a lack of historical sensitivity in building codes and restorations. Throughout the city, residents have altered their homes through the addition of new buildings, appliances, and power systems without giving thought to maintaining the historical fabric of the Ancient City.
In response to these threats, Global Heritage Fund and the Pingyao County Government partnered in a collaborative effort to better preserve the cultural heritage of Pingyao's ancient city. Over our eight years of working together, we educated local homeowners on best practices in historical preservation techniques and incentivized them to use them through a homeowner's restoration fund. And, by restoring a small block of the Ancient City ourselves, Fanjia Jie Street, as a test case, we showed the local people how their city, one of the jewels in the crown of Chinese world heritage sites, could look like with determination, vision, and hard work.
Like Global Heritage Fund, Betty understands how crucial it is to protect the past while accommodating the needs of the present. When she traveled to the national park of Manas in eastern India, she remembers seeing firsthand the often-conflicting demands of tourism and development. In the early 1990s, Manas was plagued by rampant poaching, killing the animals that visitors were coming to see. Betty recalls, "some NGOs came to them and said, 'you know, you're killing off what's bringing income to you. Don't kill off the fish and the animals, leave those alone, we'll give you some livestock, and we'll teach you. We'll teach you to build some modest cabins, to cook, to welcome guests and to make them comfortable.'
So, we stayed in this one place where they were still building a couple of cabins and learning to cook, and it was really fun and cool. It was doing a lot of good for the local people because they were rechanneling their energies to something that could maintain tourism while preserving the things that people came to see."