At Global Heritage Fund, we believe that the heart of heritage lies with the people who cherish it. Periodically, we will be posting intimate stories highlighting the many local voices that make our global heritage a story truly beyond monuments.
The rain hardly makes a sound as it falls on the courtyard, but as it spreads in rivulets from stone to stone, its effects are easy to see. The bricks transform from the light grey hue of sunnier days into a deep black, and though it is only noon, the gloom of this cold, drizzly day in Pingyao seems to intensify in their coal-like quality. Unprepared for the cold, we shiver in our light summer jackets as we step into the courtyard home of the Fan family, one of the first to benefit from our community restoration fund in Pingyao.
But these wintry colors, so inappropriate to the late summer effulgence of greens, reds, and yellows that reigns unchallenged in the capital, do not dampen the liveliness of the town and its inhabitants. "See this room?" asks Ms. Fan, pointing to a small, nattily appointed little space. "I grew up in this room. See this tree?" she asks again, gesturing to a small, stubbornly green old oak bursting out of the courtyard in defiance of the gloom. "I studied calligraphy under this tree." She pauses for a moment. "There's a lot of sentiment in this house."
A teacher of Chinese language and writing, Ms. Fan is in town for an educational conference, but she has lived outside of the city for many years. That hasn't stopped her from staying involved in the day-to-day administration of her family home. "When I came back today, I saw the tree had gotten a little yellow. So, I started telling my brother off. 'You didn't take care of it, you have to water it, you have to take better care of it!'" she laughs. Mr. Fan, her brother, spreads his hands and grins.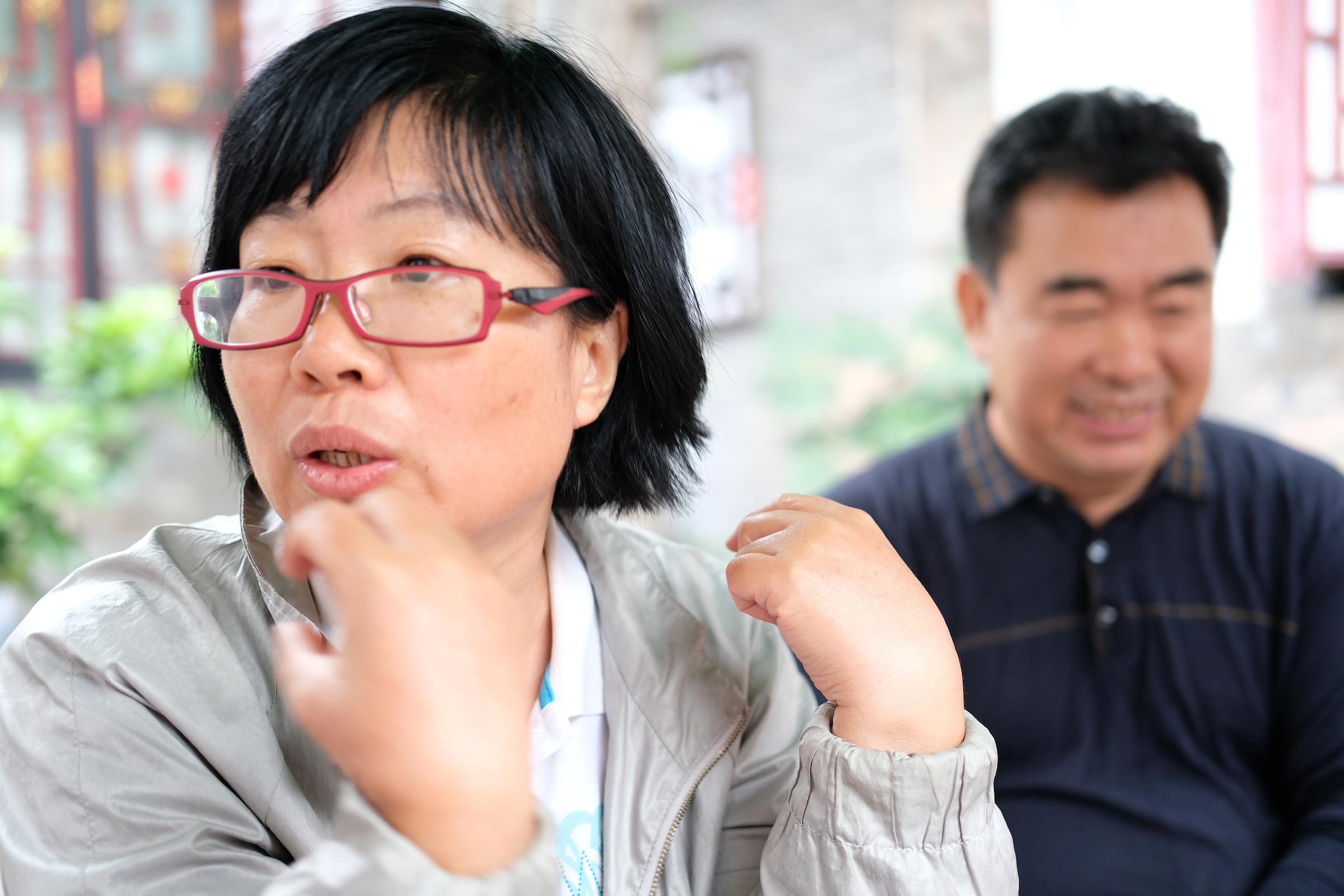 Ms. Fan and her brother, Mr. Fan, at their courtyard house in Pingyao.
©Nada Hosking/Global Heritage Fund
"I've been running this place since the restoration, so about four years now," he tells us. "Before that, I lived outside of the Ancient City in the new town of Pingyao. But when the planning bureau put out a public notice [for restoration], I thought to myself, 'My house could use a good freshening-up.'"
Like many courtyard houses in the Ancient City, the authentic, historic core of the Pingyao municipality, the Fan family's house was in a state of complete disrepair. "I don't know how to describe it exactly, but it was in pretty bad shape," he says. "There was no sewage system, no running water. There was a running tap at the entrance, but that was it. And, the roof was leaking."
But with our assistance and in collaboration with the local municipality, Mr. Fan restored his home, repairing the leaky roof, installing modern appliances in harmony with the pre-existing historical context, and embellishing it with traditional artistic motifs. "My mother lived here for 60 years, I grew up here, and my sister grew up here. We owed it to this house to make it a home again."
Like many owner-operators of these courtyard homes, Mr. Fan continues to live in the larger city outside, preferring to rent out the space to give tourists a taste of authentic local life. "Most of the people who come here come from the city, and this is the ambiance they are looking for. I have about an 80 to 90 percent occupancy rate. We are a very popular choice!"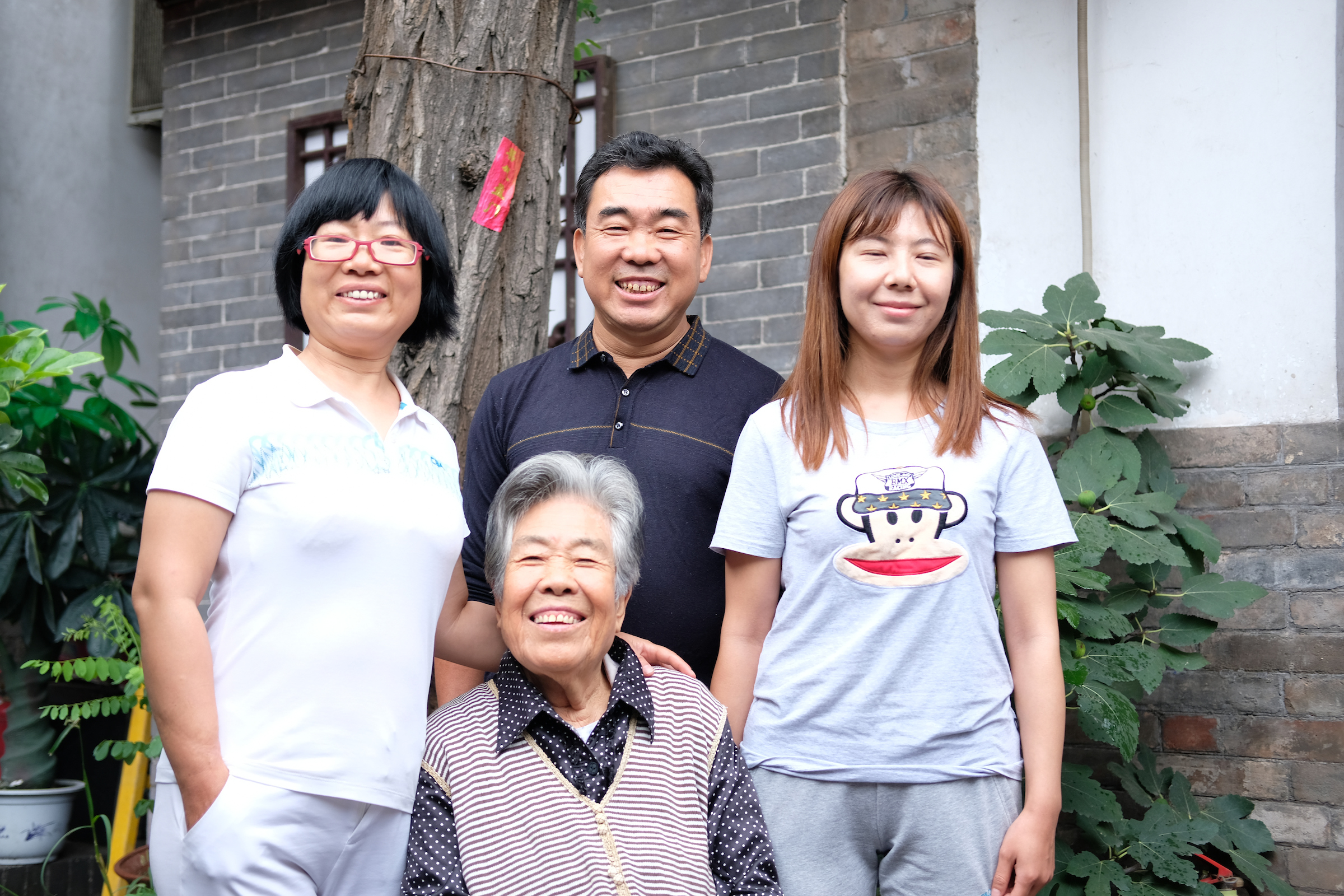 Three generations of the Fan family.
©Nada Hosking/Global Heritage Fund
Ms. Fan's commitment to this special place is no less strong, though it is tinged with some bitterness. "Everyone else is sightseeing, but for me, it's all memories of where I would go and play as a child. Pingyao has changed so much."
Indeed. What was once a sleepy little town has changed drastically in the years since reforms opened China's economy. The streets are awash with roving musicians, and merchants peddle local wares at every corner. Some areas have been relinquished to barkeeps, who advertise their businesses with the same fake flowers and gaudy light shows. The institution of a conservation scheme and reams of paper from officialdom cannot stop locals who, constrained by law to build in accordance with historical forms, nonetheless opt for concrete covered over by traditional façades.
"I really look forward to my retirement so I can move back to Pingyao," she says wistfully. "I have so many plans for Pingyao. I got together with some old school friends from my days here, and we talked about all the things we could do together. My husband is from Pingyao, and his family home is a large courtyard. We have partial ownership of it. I want to transform that into a hostel center for families and kids to come to Pingyao and stay."
Whatever the success of her plans, Ms. Fan is optimistic. "Pingyao is very internationally well known, so with Pingyao's fame, we have a great platform. We could do all kinds of things here."
Learn more about GHF's work on the Fan family's hometown, Pingyao, by visiting the official project page.