The world's special places are stories written in songs or carved on stone, physical embodiments of a people's highest aspirations toward transcendence. At Global Heritage Fund, we protect these places that their stories may not pass away but remain, as strong and vital as the day they were written.
This work would not be possible without our dedicated team, who work every day to conserve the world's most vulnerable places. In this new interview series, we shine a spotlight on the people behind our work – the conservation heroes working tirelessly to ensure that our projects are successful throughout the world.
We recently talked with Katerina Acuna, Development Associate at Global Heritage Fund, to learn more about her passions for conservation, heritage, and community involvement.
What got you interested in heritage?
Ever since I was young, I've been interested in history. I grew up in New York, and my favorite places to visit were the Museum of Natural History and The Metropolitan Museum of Art.
As soon as I could, I started working in the field of art conservation. I began my first art conservation internship at a private studio while in high school, and took a course on conservation at the Museum of Modern Art. Since then, I've always been in the field of conservation and heritage preservation.
What motivates you to work in the heritage field?
I see a large overlap between heritage preservation and art conservation. Although I started my work focusing entirely on art conservation, my interests have expanded over time. Now, my goal is to work with both historic objects and sites to preserve them for future generations. I was lucky to fall into a field that suits me well.
There's a great quote from Donna Tartt's novel, The Goldfinch. It really captures my passion for this work:
"And I add my own love to the history of people who have loved beautiful things, and looked out for them, and pulled them from the fire, and sought them when they were lost, and tried to preserve them and save them while passing them along literally from hand to hand, singing out brilliantly from the wreck of time to the next generation of lovers, and the next."
That sentiment is what drew me to conservation, and what has kept me here. It's the ability to take something that was falling apart and to repair it, to keep it going for at least one more generation. With just one more generation, people can keep learning from these objects and their history.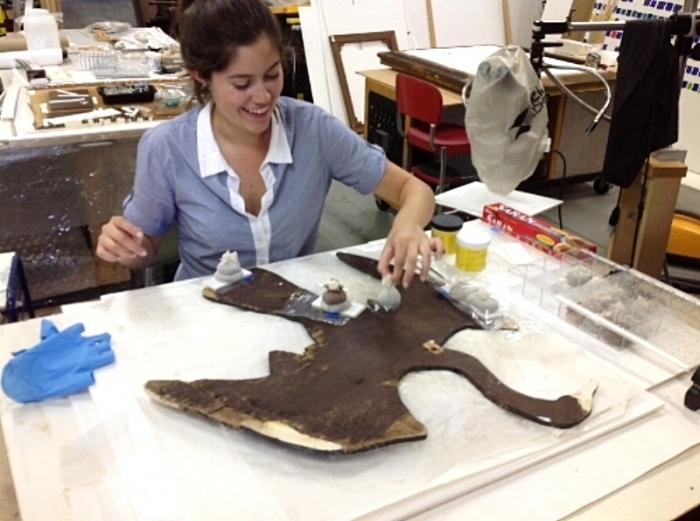 Kate consolidating a wood sculpture during her conservation training
What does heritage mean to you?
Heritage is a very broad term. To me, heritage is history — it's something with history behind it that has value to people. That value can be emotional, financial, aesthetic, applied, or some other category entirely.
Many people think of heritage as only related to famous monuments, but I've found that heritage and conservation can be about personal objects as much as about famous sites. I've worked on items from personal collections, such as a series of letters or an old football, that had great value only to the owner.
How did you end up in your current role?
Prior to working at Global Heritage Fund, I met the Director of Programs and Partnerships, Nada Hosking. We worked together excavating a Paleolithic settlement site near Toulouse called Peyre Blanque in 2014. That was my first time working on an archaeological dig, and I met Nada while she was doing research with Margaret Conkey at the same site. I was fascinated by what Nada told me about GHF and her work here.
Fast forward a year, and I was interning in San Francisco as a textile conservator. After that internship ended, I joined GHF as the Projects and Programs Intern. The position was great because I wanted to gain experience in the fundraising and support side of the nonprofit sector. Coming from an art conservation background, I'd been in a very narrow conservation-focused track, and I was ready to work with sites in another capacity. After seven months interning, I was hired as the GHF Development Associate.
What is your role at GHF? What are your responsibilities and projects?
I manage fundraising and donor relations. Through my work, I've especially loved getting to know our donors and hearing why they respond to our projects. Obviously all of us who work here at GHF care about heritage and history. It's refreshing to meet people outside of these fields who are so enthusiastic to support our work.
Our donors are an especially interesting group, and it's encouraging to see our wide base of supporters. Everybody has a very diverse background — from academics to bankers, hedge fund traders to architects, government employees to stay-at-home parents. It's gratifying to know such a wide range of people are invested in preserving heritage sites.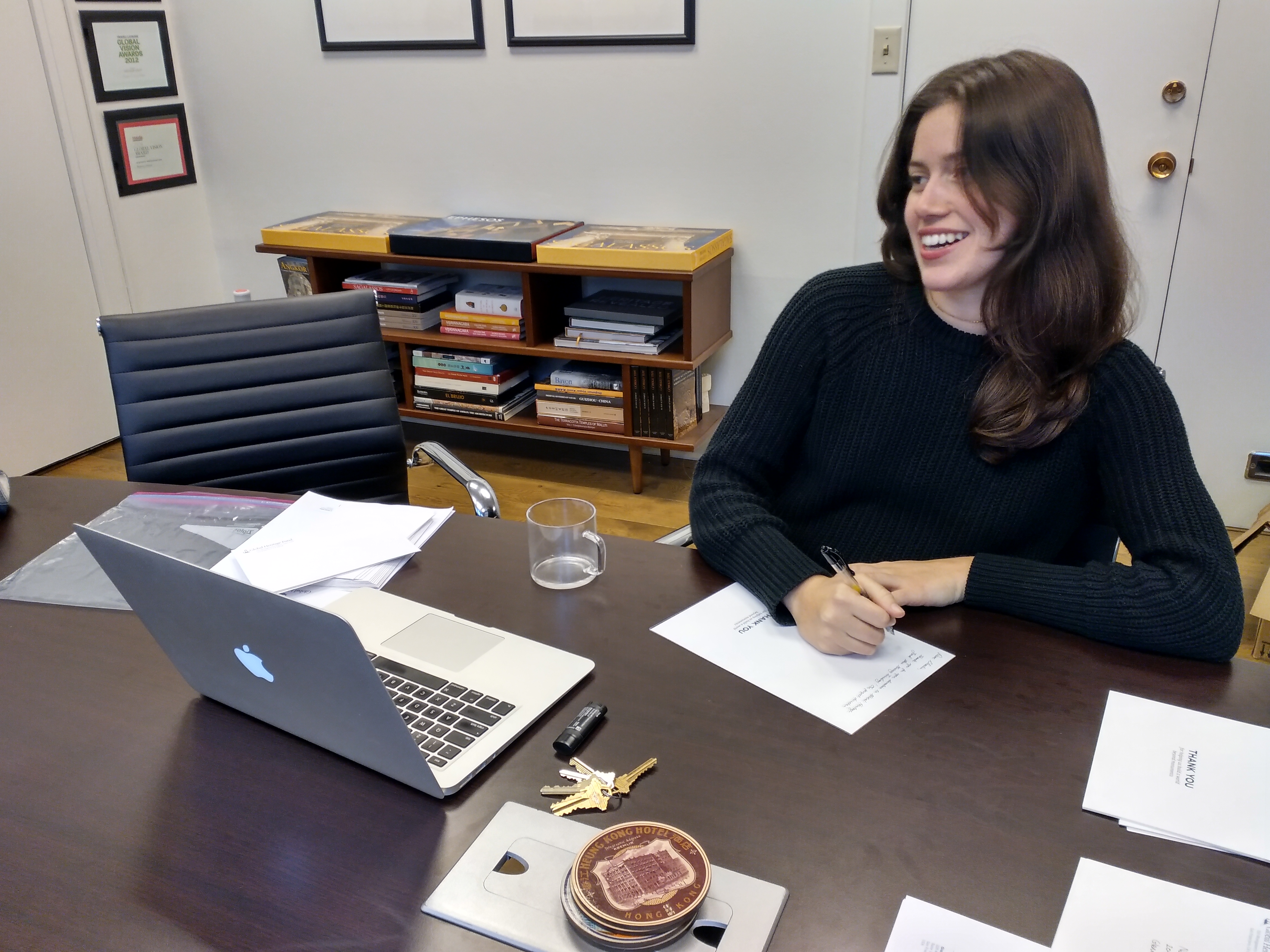 Katerina working in the GHF offices in San Francisco
Besides the variety of donors, what makes GHF stand out for you?
GHF originally interested me because of the focus on community. Other organizations don't spend nearly as much time and energy working with communities around heritage sites, but I truly believe that a community must be included in a project for preservation to be successful. As an organization, I love that we invest in both the monuments and the communities. Through our approach, the communities care about the monuments in the long run. That's so much more sustainable compared to other approaches that are not as inclusive.
What has been a favorite project you've worked on at GHF?
I especially love the work we are doing in Dali. There is so much intangible heritage and culture that that goes beyond monuments. The fact that it's an isolated Dong village means they have developed and preserved a unique culture. There's the vernacular architecture, musical tradition, indigo dying- so many different art forms.
How do you see the heritage field changing?
I've noticed that other organizations are focusing more on community-based conservation. Other projects seem to be adopting GHF's approach of using heritage as an economic driver and building sustainable tourism as a way to instill pride and foster local stewardship of heritage sites.
What future changes would you like to see concerning heritage sites?
I think the biggest changes coming to the heritage field will be new technologies. Consider archaeology — with modern technology, we won't need to rely exclusively on excavating sites manually; we will be able to scan them remotely and produce digital records. Decreasing our reliance on invasive excavations will help us preserve sites better in the future. Plus, records allow us to create reproductions of sites, minimizing wear and tear on the physical site itself. This is especially important in the face of expanding tourism since tourist numbers will only continue to increase.
In fact, GHF is already using new technologies in creative ways. We've digitally mapped churches in Cuba, creating records that can be used to generate virtual reproductions. In addition, we have VR videos that our audiences can use to visit sites without traveling to the site itself, and without disturbing the local populations and physical landscapes.
How do you want to contribute to the heritage field in the future?
In the future, I want to continue to work with heritage sites and artifacts. And I am definitely more interested now in working with communities and taking a collaborative approach when it comes to site conservation.