Banteay Chhmar

One of the greatest architectural marvels of Southeast Asia, Banteay Chhmar is a dazzling tale of imperial splendor set amongst the tangled vines and thick jungles of Cambodia's wild north.
Where We Work
Banteay Chhmar, the "Citadel of Cats," is one of the greatest architectural masterpieces of the Khmer Kingdom's epic Angkorian Period. Its extensive natural environment constitutes one of the most significant Khmer historical complexes in Cambodia, and for this reason it has remained since 1992 among Cambodia's top-listed sites for nomination to UNESCO's World Heritage List.
The ruined stones of Banteay Chhmar blend seamlessly into the forested landscape of northwestern Cambodia. A tower rises indiscernibly through the lush canopies of the skyline, taking its place among the sub-tropical trees as if stone could be turned into living flesh. A nearby moat is less accustomed to the tranquility of holy silence and more attuned to the raucous play of children, who swim about its waters in blissful ignorance of their sacrilege. Bas-reliefs of princes wrestling with snarling demons offer a faint echo of once-cataclysmic struggles, if they can be spotted from beyond their lichen sheaths and lush overgrowth. Even the enigmatic smile of the bodhisattva Avalokiteshvara may be mistaken for jumbled stones when unveiled from the shadows.
King Jayavarman VII built Banteay Chhmar at the end of the 12th century. Following similar grandiose temple plans executed throughout Angkor, it was to be the jewel in the king's already lavish crown: a one-kilometer arcaded enclosure wall surrounded the temple, carved with detailed bas-reliefs telling the story of the Ancient Khmer, depicting royal processions and battles, and festooned with multiple, exquisitely detailed images of the multi-armed boddhisattva Avalokiteshvara.
Most of it is now in ruins. Lacking any conservation efforts over the past 800 years, what human hands have not destroyed is being gleefully consumed by the surrounding jungle. The inner temple complex has slowly collapsed and disintegrated – its proud towers and awesome temples disappearing into the overgrowth – while the outer sections have fallen victim to floral overgrowth or encroachment from the nearby villages. Systemic structural instability brought about by plant growth and human intervention now threatens to topple what remains of the standing architecture, endangering both the heritage of the site, and the few tourists who dare to visit it.
The lingering effects of violence and the omnipresent threat of looting cast a long shadow in this place, situated so far away from the modern developments of Cambodian civilization. Yet, in this isolation there is a silver lining. Because of its remote location, Banteay Chhmar was spared the iconoclasm of Hindu reaction, which badly scarred the majority of the contemporary Khmer temples of Angkor. Furthermore, though it was damaged, it did not suffer the dastardliest instances of looting. Despite this, extensive conservation work is still needed.
Although much of Cambodia's precious heritage was looted between 1970 and 1998, the current state of affairs at Banteay Chhmar is largely the result of the simultaneous end of the Pol Pot regime and Cambodia's brutal civil war in 1999. With lasting peace regnant in the countryside, temples that were once inaccessible due to the on-going war became targets for looters. In what UNESCO's Cambodia-based representative Sebastian Cavalier once described as "not basic, usual looting, [but] huge-scale looting," the sanctity of the Banteay Chhmar complex has been shattered by brazen heists. The collateral damage from these thefts lies scattered upon the ground, rests at the bottom of the moat, or has been overgrown by the dense flora of this remote region.
What We Do
800 years have passed since the king's reign, and that time has not been gentle to the grandeur of Banteay Chhmar. The precarious state of the temple complex would have become untenable without immediate intervention. In 2008, Global Heritage Fund set out to protect what remained of the site, beginning with a multi-year agreement with the Cambodian Ministry of Culture and Fine Arts for the master planning, conservation, and protection of the site.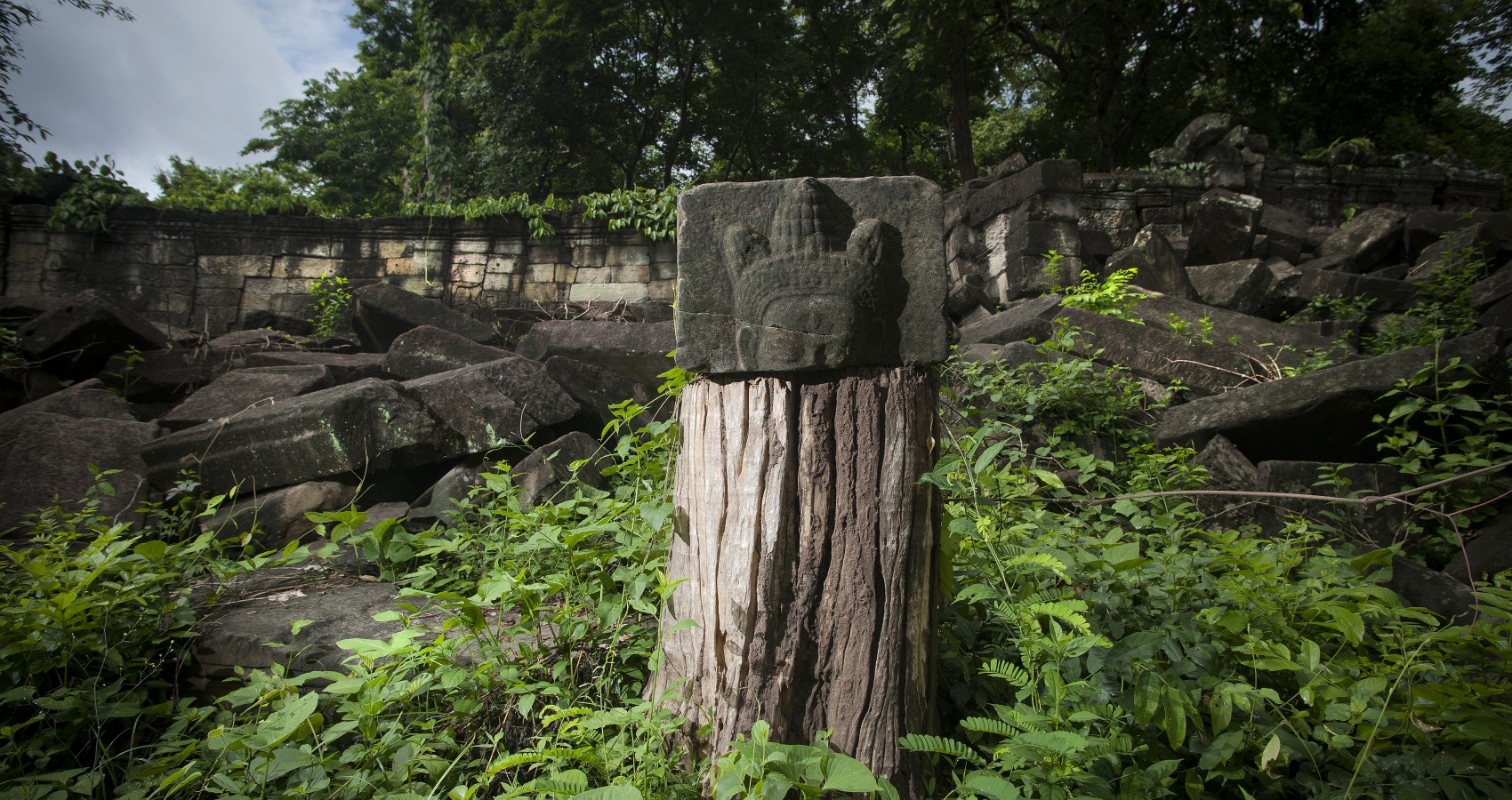 Why It's Important
This last great Angkorian temple in Cambodia, one which remains unstudied, unconserved, and unprotected, presents an opportunity for both conservation and economic development – ripe as a training ground for a new generation of conservators, it is also ready for tourism growth and economic diversification.
There were numerous monumental structures that were in need of scientific preservation and stabilization. With the help of our local staff and under the direction of Mr Sanday, we achieved the following successes at Banteay Chhmar:
SE Sector Wall conservation of bas-reliefs completed
Reassemble of approximately 70% of the vertical sections of Southeast Sector
Clearing of fallen stone from the South East Sector, all numbered and recorded in drawings
Emergency repairs in March 2014 following the collapse of a wall due to harsh weather
Emergency propping for critical sections of the temple complex
Removal of trees affecting structural stability
Stabilization and restoration of Face Tower 18N completed
3D virtual reconstruction completed
Development of proposals for water management in the moat
Though many archaeologists have achieved their lives' work in the jungles of Cambodia, very few have contributed to the overall wellbeing or the lives and livelihoods of the Cambodian people. With this project, we are reversing that trend by directly investing in multiple outreach programs for the local community. Whether in the form of Khmer-language training courses for workers, or assistance for founding new businesses or learning English, we are committed to investing in both the cultural and human capital of this special place. We were involved in the following achievements in community development at Banteay Chhmar:
41 local community members now employed at site
Local workers taught to create digital reconstructions of the site independently using AutoCAD
Workshops conducted with national and international scholars to guide local communities on conservation and site management
Workshop for the Stone Conservation Unit with a traditional forge
Foundation of the Community-Based Tourism Board (CBT)
70 local community members employed with the CBT
English language training completed for seven CBT members
Visitor Center constructed in traditional style, managed by the CBT
Establishment of nine home-stays in the village, offering 30 rooms for 25-50 visitors per night
Our successes at Banteay Chhmar are great. That said, there are still a number of challenges to achieving long-term sustainability and growth:
Tourism is an increasingly large part of the local economy, but is still a fraction compared to the market share of Angkor Wat.
Poor infrastructure around Banteay Chhmar is an obstacle to increased interest in the site.
Educational opportunities are limited in this part of Cambodia, especially for women and indigenous peoples.
Looting is still a pressing issue.
CBT growth is dependent on other factors like local educational opportunities, infrastructure, and tourist interest, which are growing but slowly.
Despite these challenges, we firmly believe that our work at Banteay Chhmar has laid the groundwork for a truly homegrown conservation effort, one that will see the site preserved and thriving for many long years. "People now look at Banteay Chhmar as part of their life," Mr. Sanday notes. "It's unreal how all these tough, young guys now turn up and work at the site, and it's their site. They are the protectors, the monitors."
Nil Loeurn – Homestay owner, farmer and housewife
Born in 1948, Nil Loeurn arrived in Banteay Chhmar in 1975 as part of the Pol Pot regime's project of relocating people from their village of birth. Originally told that she would be making mosquito nets and scarves for the local population, she instead began working in the rice fields to produce food for an increasingly hunger-stricken population. Her occupation ever since, she and her husband decided to join the CBT to help pay their eldest son's university fees.
"At first we were nervous, because we thought our home was too simple to be considered" says her husband Sem. "Now we feel like we have a larger family when people come, and it makes us proud". They enjoy the regular meetings held by members of the tourism committee, and are excited by the prospect of speaking better English with the visitors GHF is helping to bring to Banteay Chhmar. "When we first learned that GHF would be restoring the temple, we were worried that villagers would be made to leave, like in the past." "Now we are very happy that GHF is protecting the temple as well as the people of Banteay Chhmar."