Chavín de Huántar
An oasis in the Andean highlands, Chavín de Huántar was the social, religious, and political center of the Chavín people for over 1000 years.
Where We Work
Thousands of years before the Inca rose to prominence, the mountain valleys of northern Peru played host to a mysterious but accomplished people. Though the fundamentals of their culture remain little more than objects of conjecture, the Chavín developed a rich society, with sophisticated temples, a complex religious hierarchy, and extensive trade systems that remain as a testament to the wealth and prestige of this largely forgotten people.
Below the lily-white Cordillera Blanca range of mountains, sandwiched between the desert coast of the Pacific to the west and the lowlands of the Amazonian plains to the east, the Conchucos Valley lies, an oasis of verdant meadows and pastureland. Seemingly untouched by the stamp of time, it is almost surprising that this spot was the site of the first great civilization in the Andes Mountains.
The flower of pre-Columbian culture, the Chavín nonetheless left little archaeological evidence behind to bear witness to their glories. Except, that is, their capital city. An achievement representing the apex of the artistic, architectural, and religious sensibilities of its builders, Chavín de Huántar was inhabited for millennia before its ghostly buildings – exquisite in form and delicate in design – mysteriously lost their inhabitants over 2,000 years ago.
Functioning between 1,500 and 500 BC, it is the most elaborate and best known of the formative period sites in the Andean highlands. As the center of social, political, and religious activity in this region, Chavin de Huantar has a size and scope befitting its importance. The site comprises a complex of terraces and plazas surrounded by major platforms of dressed stone, and extensive carved stone decorations portraying exotic human-animal hybrid figures give a striking appearance to this former place of worship.
More so than its stunning architecture, Chavín de Huántar was a place of great mystical significance. A shaman elite wielded immense power through the use of drugs, architectural conceits, and the aegis (or threat) of divine sanction. Indeed, though religious rites are hardly attestable, this is in part due to their malleability at the hands of the shamans.
Mysticism and architectural style are complicit in creating a sense of mysterious dread. During heavy rains, the water that courses through precisely designed aqueducts roars with the atavistic bellows of the jaguar, an animal sacred to the Chavín people. The maze of pathways through the temple itself seem intentionally designed to confuse the worshiper, who would be naked, in the dark, and intoxicated on hallucinogenic drugs. In Chavin de Huantar, the intersecting relationships between art, architecture, and the practices of the cult combine in a testament to the timeless glories of this people.
Over 2,000 years after its inhabitants disappeared and the jungle swallowed up the site, Chavín de Huántar was found in a state of disrepair. Primarily damaged by hundreds of years of neglect, it faces profound challenges from environmental threats, structural damage and instability, inadequate site maintenance, and endemic poverty in the surrounding community.
Many of the site's more interesting and unique elements are stone-lined underground passages known as galleries, which are in danger of collapse due to water penetration within the platform mounds.  Natural disasters have impacted the ancient ceremonial center of Chavín as exemplified in 1945 when the site was covered by a huge landslide obscuring temples that had begun to be revealed by excavations.
Chavín was further damaged by a 1970 earthquake that impacted this ancient site and wreaked havoc in the modern towns of the area.  As noted in State of Conservation Reports in 1998 and 1999, UNESCO and ICOMOS reported that Chavín was in a very fragile state and that urgent interventions were needed.  With its unique mountain setting, traditional cultural context, and separation from encroaching development, Chavín is ideally situated for long-term preservation.
What We Do
Global Heritage Fund's primary goals at Chavin are to conserve the most critically endangered structures above and below ground, and to increase social, cultural, and economic opportunities for local stakeholders. Principally, GHF and our partners seek to balance the competing demands of local community development, heritage preservation, and ecological stewardship.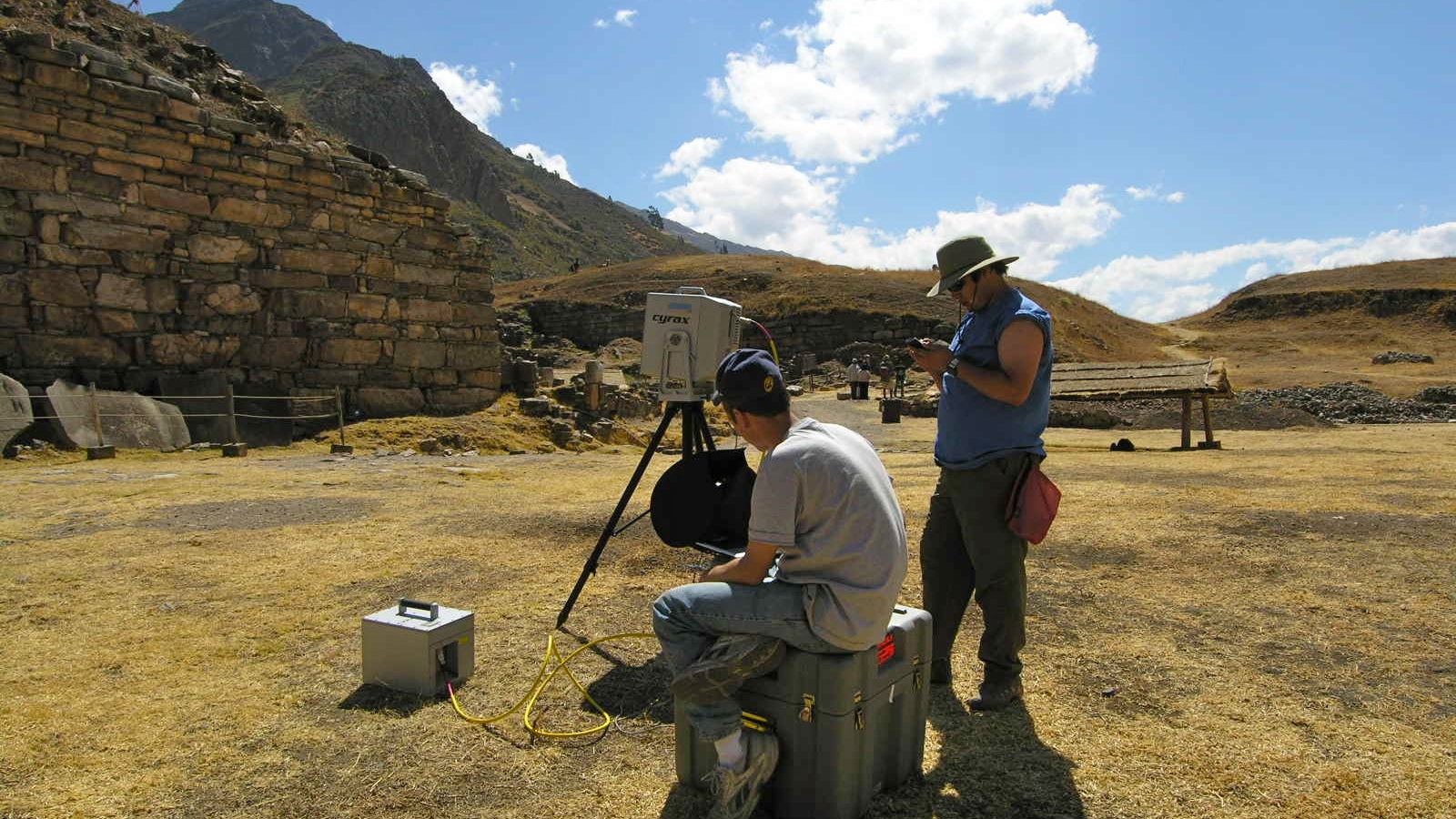 Why It's Important
Though our impact on the site is immediately visible to the naked eye, we go beyond monuments to directly impact the lives of our partners on the ground. And that's why we need your help. With your generous support, we will be able to continue saving the priceless heritage of the Chavin culture.
To mitigate these issues, Global Heritage Fund is supporting efforts to reduce water penetration, and improve ventilation and drainage to dry out the site so that preservation efforts can advance in a stable environment. During our time at Chavin de Huantar, we have accomplished the following:
Rocas Canal cleared and working for site drainage.
Completed repair of monumental structures around Falconid Gateway.
Discovered, excavated, and began conservation of the Gallery of the Chapel – the first new underground gallery discovered onsite in 50 years.
Discovery, exploration, clearing, and stabilization of Rocas Oeste, the first drainage canal to pass entirely under a monumental structure.
Exposed and started conservation of the monumental façade of Building C.
Discovered, exposed, and began conservation of major ritual precinct in the north esplanade of Building C, one of the site's main ceremonial foci.
Planted endemic plants on structures to aid stabilization.
Participated in and guided the establishment of Peru's first stone conservation laboratory in the Chavín National Museum.
30 artisans trained in traditional craft techniques.
24 community members trained in artifact conservation.
55 children involved in ceramics and heritage education program.
120 Peruvians employed by the project.
50 guides from Chavin and neighboring towns trained.
Major artisans association for stone and ceramics – 60 person employed
Museum and artifact conservation training for 24 locals from Chavin
Training of over 80 Peruvian archaeologists and conservation team members
New national museum $4 million investment employs 12-18 people trained by GHF; museum houses over 1,200 major artifacts conserved and catalogued by GHF conservation team.
600 ceramic vessels produced by project-trained local craftspeople for sale at the Reitberg Museum in Zurich during the 2012-13 Chavin exhibit
Craft association formed.
Alejandro Espinoza
GHF's long-term interaction with Alejandro Espinoza and his family was a foundational relationship in our work at Chavin de Huantar. Alejandro is from Chavín by birth, and has worked at the site since 1996. Thanks to project training, he has gone from mere field assistant to the Assistant Director of Chavin. A skilled conservator, expert excavator, trained guide and functioning administrator, Alejandro is effectively the second in command at the site. Alejandro continues his work with the project this year, taking leave of his government position for three months to serves as Conservator-in-Charge under Conservation Director Julio Vargas.
In the footsteps of his father, Alexander joined the project during his extended school vacations, and has now started training with the conservation team. At the end of the 2011 field season, he was accepted to the Archaeology Program in UNASAM, the Universidad Nacional Atunez de Mayolo in Huaraz, where he is now studying to obtain a Bachelor's in Archaeology with an emphasis on conservation.  He will be the first indigenous Chavino with a higher degree in archaeology, and all involved have great expectations for his continued role in the future of the monument of Chavín.
Reiman "Chino" Ramirez
Reiman "Chino" Ramirez is one of our most dedicated project members.  He has been working with us for more than 10 years, and has gone from a high school student part-time worker to now being head of our local staff, employed with us on a 12-month basis.  Chino was born in Chavín and was raised in the little nearby community of Querqos, a very poor hamlet with a population of a couple of hundred people.  Reiman showed major aptitude and interest for archaeology and matters of heritage as well as extensive ability as a capable handyman.  Raised in conditions where simple practical matters, handled with simple remedies make the difference between life and death (his father is a self-employed coal miner in the scattered veins around Chavín), he learned to use his clear thinking ability to dedicate himself to problem-solving.  Combine that with a humorous, can-do attitude, and we found in him a great person to invest in with conservation training whenever the opportunity presented.
He took a break from working with the project for long enough to earn an Associate degree in tourism and found supplementary employment – before we could offer full-time income for him – in working as a tourist guide in the monument.  With the growth of our project, we were quick to put him in a managerial field position, directing local workers and making the supply and task allocation decisions that only someone local can do well.  One of his moves was to suggest that we hire his father at a juncture when we had to stabilize exceptionally difficult conservation contexts, for example, excavating under a later prehistoric structure we did not want to remove.
At the time we were unaware of his father's small-scale shaft mining background, but we readily brought his father in to the team in 2011, and he has proved to be an excellent practical engineer, although lacking his son's more polished interface (Elias has relatively little schooling and knows little of the outside world).  As of 2013, Chino has taken over the head implementation position in the project, being in charge of provisions, equipment, and local transport, as well as primary provisioner for field operations.  He is a capable excavator and conservator, and capable of organizing complex field operations, and should be able to look forward to a long career in conservation archaeology.