Foguang Temple
Inscribed on the UNESCO World Heritage List as part of the Mount Wutai ensemble in 2009, Foguang Temple is one of the finest examples of Tang Dynasty architecture remaining today.
Where We Work
Built during the Tang Dynasty (7th-10th centuries AD), Foguang Temple is a tribute to the peak of Chinese Buddhist art and architecture. Its main structure, the Grand East Hall is the second oldest and one of the most important remaining wooden architectural jewels of ancient Chinese civilization.
The location of the temple was forgotten for centuries and was rediscovered by the great architectural historian Liang Sicheng in 1937, based on a wall painting from Mogao Grotto, depicting the location of the temple in Wutai Mountain.
Wutai Mountain is honored as one of five sacred Buddhist mountains in China, and the epitome of Buddhist spirituality. Wutai Mountain's Buddhist history and culture is not only one of the brightest pearls of traditional Chinese culture but represents the earliest achievements of Sino-Indian cultural exchange. The temple has not had repair or conservation work since the 17th century, and suffers from extensive structural damage caused by falling rocks from landslides and leaking roofs; therefore wooden beams and pillars are threatening irreparable structural damage.
Foguang Temple is built on multiple levels up a hillside valley, following the slope of the mountain embraced by green hills on three sides. Listed as a major site of historic value under state protection, the temple covers an area of 34,000 square meters. It was constructed during the reign of Emperor Xiaowen (471-499) of the Northern Wei Dynasty after he purportedly witnessed Buddhist halos, or bright lights, in the sky; hence its name Foguang (Buddhist Halo) Temple.
Foguang Temple was founded between 471-499 AD under the reign of Emperor Xiaowen of the Northern Wei Dynasty, and was widely known throughout the world. In 845 AD, all the buildings of the temple were destroyed in Tangzuwong's campaign to eliminate Buddhism. In 857, the temple's East Hall was renovated and then enlarged with a more sophisticated architectural design. It is generally regarded as one of the architectural gems of ancient China, and a primary model for Tang Period architecture across China and the rest of Asia, including the more famous Todaiji Temple in Nara.  Foguang Temple is considered to be the 'Fountainhead' of classical Chinese architecture.
Shanxi Province possesses some of China's last remaining examples of original early architecture. Many of these treasures have survived due to their previously remote location that spared the region during the major wars, and its dry climate that prevents wood rot and termites, the primary threats to wooden architecture.  Historically, major temples in China have undergone major conservation every 50-100 years. Foguang Temple has not seen major conservation work since the 17th century and today, is in danger of its roof collapsing due to deteriorating beams, supports, pillars and overall structural integrity. Because of the lack of regular repair works, a number of threats are endangering the very survival of Foguang Temple including:
Rapid deterioration of roofing structures, beams, supports and pillars
Decomposing sculptures and interior reliefs, mosaics and ornamentation
Weathering of all exposed wooden structures due to lack of treatment, threatening
structural integrity
Damage from falling rocks from the surrounding mountainside and earthquakes
Additionally, Nanchan Temple recently lost the head of its 1,500-year old Buddha residing in the Dafo Hall, despite being surrounded by steel bars, to looters who cut through the cage and sawed off the head of one of China's most important treasures for a private collector.
What We Do
The wood-built temple has been threatened by a lack of maintenance over the last few centuries, and its integrity and stability has been severely compromised as a result.  GHF is providing funding and expertise for the investigation, planning, and scientific conservation of this 1,200-year old temple in the environs of sacred Wutai Mountain by working with Shanxi Province's Cultural Relics Bureau on the investigation and planning for Foguang Temple's conservation requirements.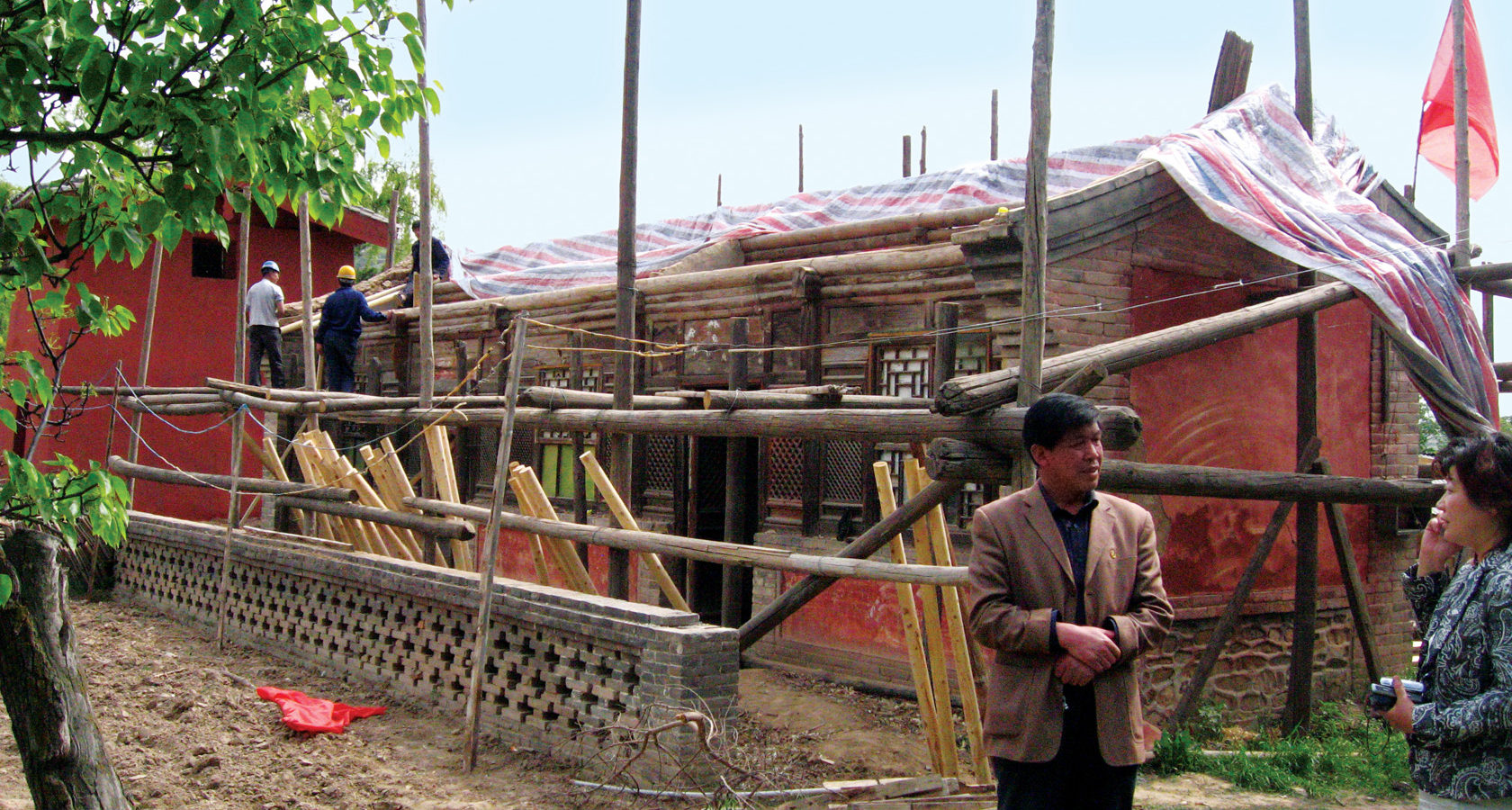 Why It's Important
The temple has not been repaired or conserved since the 17th century, and extensive structural damage from falling rocks and rotting roofing, beams and pillars is threatening irreparable damage.
Legal and Scientific Site Master Plan completed and approved
Grand East Hall Conservation Plan completed and submitted
Post-project site maintenance plan prepared and submitted
Foguang Temple Complex was inscribed on the World Heritage List in 2009 as part of the Mount Wutai ensemble
The monks' housing has been repaired
Architectural conservation has been performed on the Entrance Gate, Garden Gate and Xiangfeng Huayu Building
Restoration of the Master's Tomb Pagoda has been completed
Flood protection has been implemented around the Grand East Hall
Completed cleaning of over 400 polychrome clay sculptures inside the Grand East Hall
Lectures and training on conservation concepts and techniques by John Hurd, GHF Director of Conservation, and Kuanghan Li, China Heritage Program Manager, to Shanxi Institute of Ancient Architectural Conservation (SIAARC) staff in Taiyuan
Mission from SIAARC visited USA on a study trip to learn about the conservation and management of American heritage sites
Conservation funding secured from provincial and national governments as a result of approved Master Conservation Plans
$290,000 in-country funding raised
$1.2-1.6 million in funding from the national government for conservation of the Grand East Hall based on GHF's Master Conservation Plan