Göbekli Tepe
Göbekli Tepe is the oldest place of worship ever discovered, predating the Egyptian pyramids by 6,500 years. Peerless in architecture and artistry, this monument is a true wonder to behold.
Where We Work
Called "Potbelly Hill" by locals for its gently sloping curves, Göbekli Tepe appears almost insignificant, a place of little prominence compared to any other mountain in its range. And yet, beneath the tawny earth of the mountaintop lies an astonishing discovery: a temple of monumental design, conceived and built 6,500 years before the construction of the Great Pyramids of Egypt.
The circa 300-meter-wide hill of Göbekli Tepe is situated approximately 15 kilometers northeast of the modern town of Şanlıurfa in southeastern Turkey. Though buried for thousands of years, the site of Göbekli Tepe has a foregone majesty that is not difficult to imagine: with an advantageous placement at the highest point of an elongated mountain range, it would have been an epic landmark for miles around. Indeed, when an American archaeologist first stumbled upon the ruins in the 1960s, he was so confused by his findings and where he found them that he walked away and never returned.
It was an advantageous state of affairs for the late Klaus Schmidt, the excavator and site director for the German Archaeological Institute until 2014 Following the American's field notes to the top of the promontory, Schmidt recalls seeing carved flint, a Neolithic-era quarry, and limestone scattered everywhere, and instantly knew the value of what he saw. "In one minute – in one second – it was clear" he says. And for 20 years, Schmidt dedicated his life to excavating the site in the quest to reveal its many hidden secrets.
Göbekli Tepe is an Early Neolithic site of enormous significance dating back more than 10,000 years ago.  Believed to have been a temple structure for the region's 'cosmopolitan elite', the site is astounding for the complexity and majesty of its design. At least 50 15-foot-high monolithic pillars stand imperiously out of the soil, adorned with intricate reliefs of totem animals such as jaguars, symbols of death like carrion birds, and objects of game such as the wild boar that still roam these hills today. The arms and hands depicted on their sides allow us to interpret them as being anthropomorphic, while the animal reliefs create a rich and intriguing iconography conducive to stimulating interpretation.
Each monolith is set within one of at least 20 concentric rings, each of which is built inside the other, with diameters ranging from 30 to 100 feet and weighing up to 20 tons. Likely covering the entire hillside, it is believed that worshipers would fill in the outer rings with material before building a newer, smaller one within it.
Until excavations began, a complex on this scale was not thought possible for a community so ancient. The massive sequence of stratification layers suggests several millennia of activity, perhaps reaching back to the Mesolithic period. The oldest occupation layer (stratum III) contains monolithic pillars linked by coarsely built walls to form circular or oval structures. So far, four such buildings, with diameters between 300 and 100 feet, have been uncovered. Geophysical surveys indicate the existence of 16 additional structures.
Göbekli Tepe was not a settlement, however. Rather, it is believed to have been a sanctuary and regional center where communities met to engage in rites.  This hypothesis is supported by the fact that excavations to date have provided no evidence of residential buildings or fortifications other than the monolithic T-shaped pillars.
Though only recently reintroduced to world heritage 20 years ago, Göbekli Tepe is endangered by a host of threats. In September 2010, a 30-kilogram stela from the site was looted, the first and to date only case of looting since 1995. However, as awareness of the site increases, looting could become a growing problem. Furthermore, the archaeological remains, once exposed through excavation, are also subject to damage from erosion and the freeze/thaw cycle.  Until recently, the evident lack of a comprehensive Site Management Plan has also been detrimental to the site's long-term stability.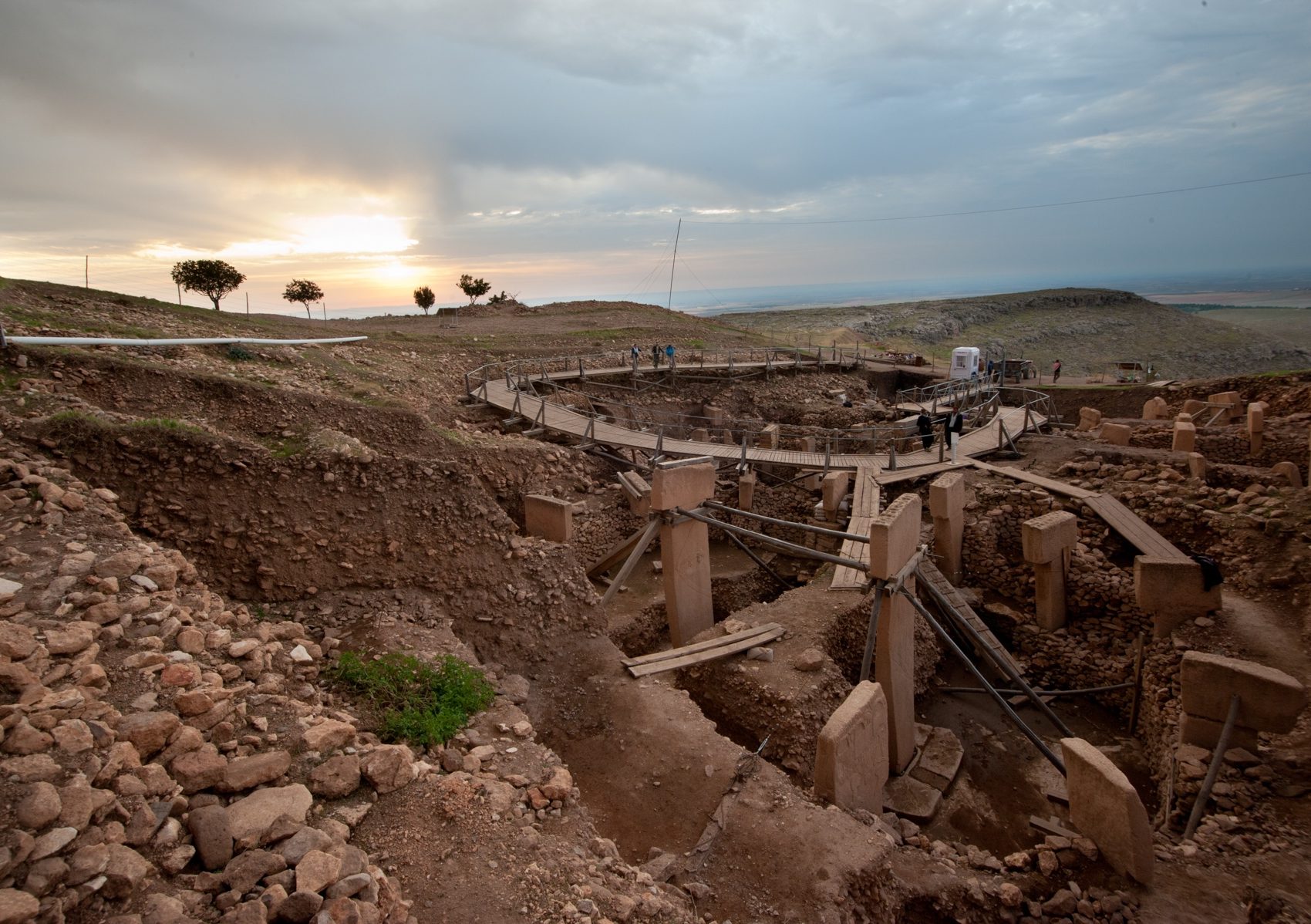 What We Do
Global Heritage Fund's key goals at Göbekli Tepe are to support the preparation of comprehensive and implemented Site Management and Conservation Plans, construction of a shelter over the exposed archaeological features, conservation of the historic art and architecture, training of local community members in conservation and community-related initiatives, and aiding Turkish authorities in securing World Heritage Site inscription.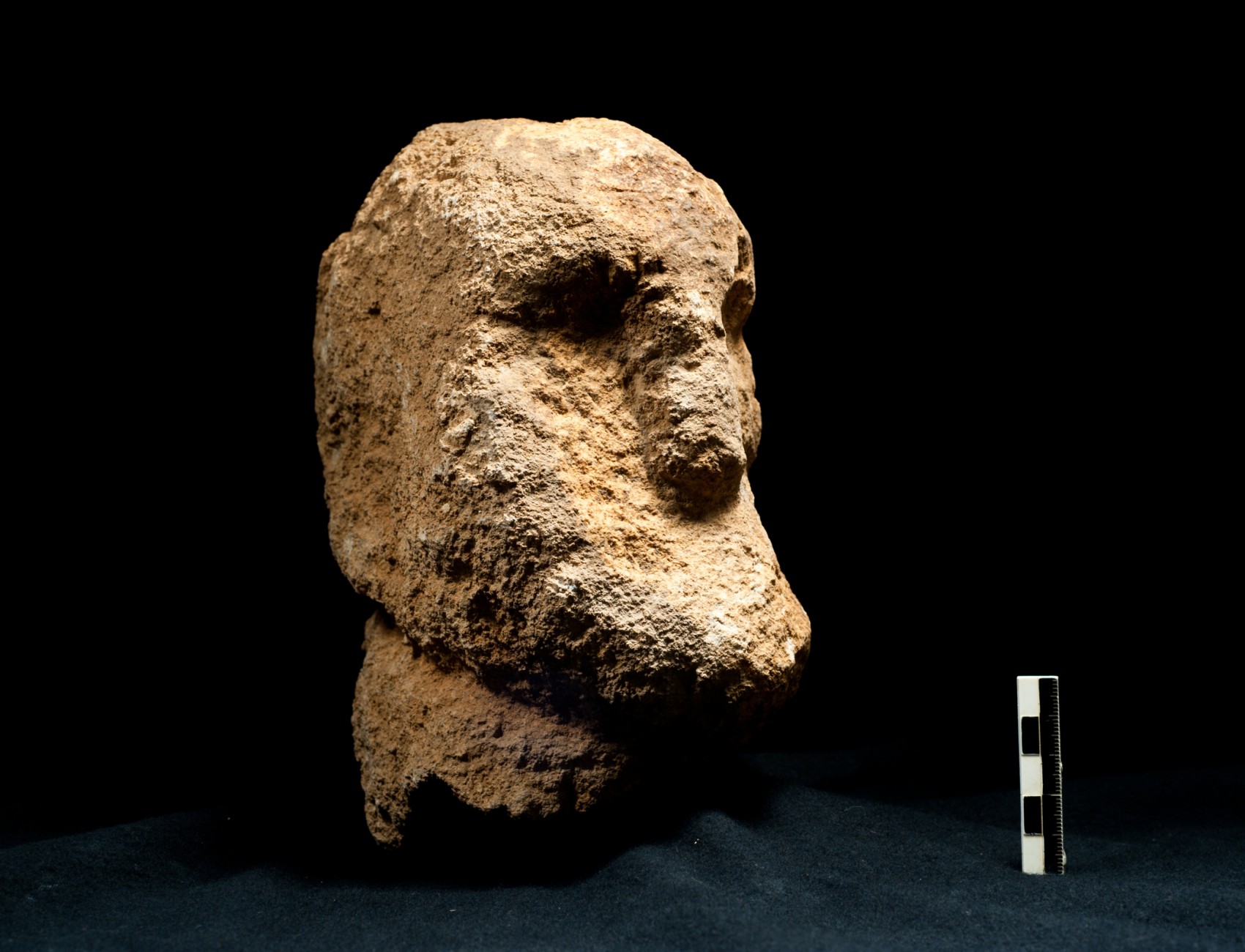 Why It's Important
In a time before pottery, agriculture, or even the invention of writing, people came together to construct this monumental work of human ingenuity. Hidden for millennia after being hastily buried by its worshipers, only five percent of the entire structure is excavated. With so much work to be done, it is imperative that Göbekli Tepe continues to be protected as the great work of art that it is. 
Head carved from stone, most likely originally part of a life-sized human sculpture. The distinctive and emphasized chin may be interpreted as indication of a beard.
Fragment of a sculpture carved from stone depicting a large bird holding a human head. This motif is a known topic among the iconographic repertoire of the Pre-Pottery Neolithic.
Pillar 57, one of surrounding pillars of Enclosure H at the northwestern depression at Göbekli Tepe shows the relief of two antithetic snakes with a round object between them.
A large stationary stone vessel with a calculated capacity of up to 240 liters. Similar vessels of this type were previously associated with the production and consumption of beer at Göbekli Tepe.
Another human head carved from stone and most likely originally part of a larger sculpture. Shows a distinctive arrangement, probably indicating a certain hair dress.
Large objects, perhaps mortars, were unearthed recently in excavation areas at the northwestern depression of Göbekli Tepe.
Funded the installation of a six-kilometer-long site security by members of the local community.
Participated in the site management planning process and shelter structure development
Funded the construction of a temporary shelter over the SE excavation area.
Completed sampling for initial mortar analysis and conservation plan
Prepared formal agreement with Harran University to establish stone conservation laboratory
Education program for the local village children started, with team members teaching at their school and visits to the site and local museum
Public lectures given by project director and team members to surrounding communities to inform them on work progress
Project team has worked closely with regional and national authorities to construct new museum in Şanlıurfa and Turkish Pavilion at the International Travel Show in Berlin in March 2013
Number of paid guards increased to four
Approximately 60 local community members employed on site
INTERESTED IN GÖBEKLI TEPE?
Learn more about our other projects like Göbekli Tepe by getting actively involved, signing up for our newsletter, or joining our active community of online followers.